Making Good on Health Promises to Refugees
By Dana Goldman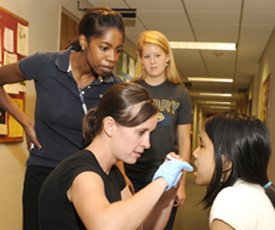 Nobody else had noticed, but it didn't take long for Emory's Elizabeth Downes and her students to figure out that the young refugee was blind in one eye.
Later during that day of sports physicals, they realized that another child had been playing soccer on a broken foot. In Clarkston, the center of refugee life in Atlanta, health care isn't always easily accessible. But every Thursday during the school year, Downes and undergraduate nursing students from her community health class bring health care to the community, one screening at a time.
Downes, a clinical nursing professor, spearheaded a relationship with nonprofits in Clarkston when she returned to the United States after a decade in Africa. The project now includes partnerships with local groups including the International Community School, Global Village School, and Fugees Family. She also works with the Clarkston Community Center (led by Emory public health grad McKenzie Wren) and the Clarkston Development Foundation (led by Emory grad Fola Fasuyi).
Throughout these sites, Emory nursing students provide education and screenings on everything from dental and reproductive health to blood pressure and blood sugar. In the process, they gain firsthand knowledge of patients from a range of countries, few of whom speak English as their first language. The patients, says Downes, help students realize the importance of simple, jargon-free communication. "In Atlanta, you're always going to have a chance to work with people from diverse backgrounds," she says. "You need to have the skills to do that."
Simultaneously, the nursing students introduce the children they screen to health care careers through occasional visits to Emory's campus. "We expose them to 'what is a doctor, what is a nurse, what is a physical therapist,'" says Downes. "We influence their ideas about what they can do." And that work is starting to pay off. One child who grew up in Clarkston is now in college, planning to attend Emory for nursing school.
The experience can be life-changing for Emory students too. A nursing student who grew up in the States with parents from Ethiopia had minimal interactions with the Ethiopian language and culture until taking the community health class at Emory. "When she realized how much refugees go through, she went on to learn her own language and got a degree in public health," says Downes. "The next time I saw her she was in Ethiopia where she and her parents had gone to open a clinic."
So far, more than 100 students have participated in the class and screenings in Clarkston. They consistently say that they receive more than they give there. "Students are drawn to the school because we have a stated mission of working with vulnerable populations," Downes says. "They want to be out in communities, have a strong interest in global health, and seek out work with the poor and homeless. In that sense, we're giving them the opportunities they came to us for."
And in another sense? Downes and her students are giving Clarkston's residents the opportunities promised to them when they first came to the United States—a chance to live better and in greater health.
Related Resources: