Book buddies
From age 4 to 100, these buddies share experiences
By Rhonda Mullen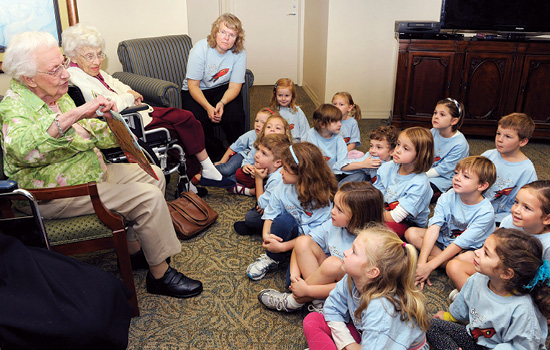 The pre-school and kindergartners from the Glenn Children's School in Atlanta learn to count to 100 by twos, fives, and tens. So when they participated in a book buddies program at Emory's Wesley Woods Towers this spring, they were delighted that one of the ladies listening to the stories is more than 100. 
Each quarter, these four- and five-year-olds get together with the residents, many in their 90s, who live on the assisted- living floor of the Towers. The children bring paintings and drawings—and this past February, valentines—to share. And the residents in turn share books with them. The readers take their job seriously, always requesting a copy of the selected book ahead of time to prepare for their presentation.
Julia Oliver (above, left), a popular reader to the group, says, "I don't read the story. I tell it to them." A retired third-grade teacher, she often embellishes the action or throws in a question to engage her young listeners. "How many of you can whistle?" she recently asked when showing a book that featured a boy who was learning to whistle. She was surprised that two of the children could indeed already whistle, which they demonstrated, but she had to admit that she couldn't do it as well at 93 as she used to. 
An initiative of the Emory Center for Health in Aging, Book Buddies promotes intergenerational learning. Harriet Holland, director of the Glenn School, says the children always look forward to the visit, where they learn from those who have had long lifetimes and many lessons to share. And the ladies on the second floor, who aren't as mobile or spry as they once were, enjoy the interactions too. They always learn something from the children, they say.
"I love to work with children," says Oliver. "That's my weakness."

Then she adds: "If God has let me live this long, he expects me to do something as long as I have my mind."
As for the children, "they liked the way the lady told the stories," says Holland. Their next question: When can we go back?
Related Links: