Hospital to home
Transition managers help reduce hospital readmissions
By Kay Torrance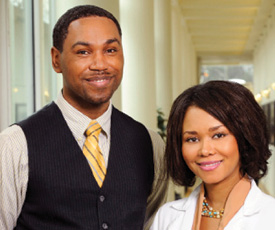 "I know more now about my condition than I ever did before, and I've been living with it for years,"the patient told Rosalynn Comer, as she finished reviewing a booklet on heart failure with him. It wasn't the first time they had met. As soon as this patient was admitted, Comer saw that his condition and risk factors made him an ideal candidate for her to follow. 
A transition manager, she is one of a cadre of 11 advanced practice nurses at Emory who work with patients from admission up to 30 days after discharge. Like her colleagues, Comer follows patients with certain conditions and risk factors that make them likely to have another hospital admission. Preventing readmissions is good for both patients and hospitals, which face reimbursement penalties from Medicare and Medicaid when patients with certain conditions are readmitted within 30 days.
At Emory, transition managers step in to provide a link between patients and health care providers. Because they are all nurse practitioners, they can order tests, interpret results, write prescriptions to adjust medication dosages, and discharge patients. That makes Emory's model different from other hospital systems that use registered nurses or social workers to coach patients, says Naph'tali Edge, Emory's director of transition management.
Emory patients can call transition managers' cell phones with questions. Comer has even had patients call her while they were shopping for groceries with questions about diet.
The work of Emory transition managers with heart patients is proving especially successful, with readmission rates for those with advanced heart failure down 33% at Emory University Hospital Midtown. The readmission among general medicine patients at Emory University Hospital also is down 10%.