Parlez-vous "doctor"?
Emory's elective in medical French
By Rhonda Mullen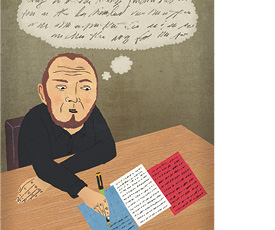 When Anthony Gal was a pre-med student at the University of Virginia, he wanted to apply his knowledge of French to his studies, but the chairman of the French Department there saw no need for that. "We are here to teach you poetry and critical literature analysis," he was told. "If you want to speak French, go to France."

But more than 30 years later, Gal, with appointments in pathology and medicine in the Emory School of Medicine, has found a way to pursue that dream. He teaches a 10-week elective in medical French to second-year medical students at Emory.  Since French is spoken on nearly every continent in the world, he believes it is an important language for health care providers. 
The impetus for his return to the language came in 2008, when he studied tumors of the pleura with a colleague in Normandy, France. While there, he went searching for a book to help him brush up on medical French for English speakers but found only books in French on learning medical English. Nothing was available for the non-French speaker to learn the "language of medicine."

Gal began his course in medical French at Emory soon after, complete with audio assignments and in-class discussions on current articles, medical terminology, and anatomy.  In the four years since, he has emphasized the practicalities of how to take a patient history and do a physical in French. 
He finds natural parallels between learning to "speak doctor" and a foreign language. "In medical school, we build a vocabulary, starting with simple terms that get more complex and layered as we go along," he says. "It's like any foreign language class where you first learn basic vocabulary, throw in a verb, then learn basic conjugation."
Gal wants to prepare his students—many of whom want to pursue careers in public health—to work with patients in Haiti or French-speaking countries in Africa. The materials covered in his course are aimed to help them master both languages, that of medicine and French.  
Related Links: