Feeling right at home
A new medical home model for primary care at Emory is changing how patients receive health care from the moment they walk in the front door.
By Mike King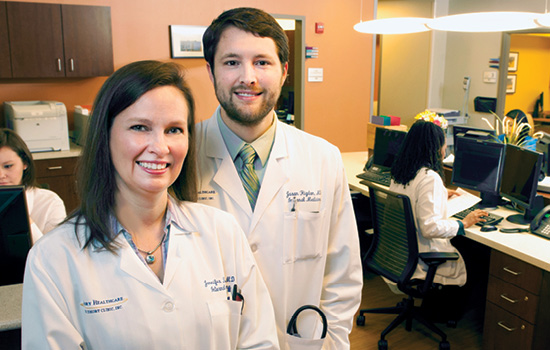 Ron Whitten's quest to find the right physician was pretty simple, despite somewhat complicated health care needs. 
Whitten must be followed for evidence of hypertension, high blood cholesterol, and weight control. His wife, Nancy, battles chronic osteoarthritis. As they approached their Medicare years, they'd both seen their share of the inside of a doctor's exam rooms.
 "We feel that primary care should be just that—primary, not secondary. We want to be the focus of a team approach that helps us to stay healthy and coordinates care across the spectrum of providers that we use," says Whitten, a retired clinical social worker and faculty member of Emory's medical school.
So last year the Whittens decided to enroll in a patient-centered primary care (PCPC) practice that had just opened up to Emory employees through the Emory Clinic and the university's health insurance plan. It's part of a new wave of delivering medicine in so-called "accountable care organizations," or medical "homes," where physician and hospitals are paid for keeping patients well instead of being paid only when patients are sick.
For the Whittens it was a perfect match.
"From the moment you step through the door, the whole culture of the place is dramatically different from what most of us are used to," Nancy Whitten says about the clinic, located on the second floor of the 1525 Clifton building on Emory's Druid Hills campus. 
In the waiting room, there's no wall separating patients from the staff. There's no sign-in on arrival. The two physicians who see patients sit at desks in the same room with the rest of the staff. "They greet you by name. They know why you are there," Whitten says. "They are there for you."
Concerned connectedness
Even more important than the feel of the place, Whitten discovered, is the role that patients play in formulating their own health plan. 
The practice has a secure web portal (similar to those for online banking) for patients to see and write notes about their medical records and test results. There are nurses, medical assistants, behavioral health specialists, and other providers available on the phone, in person, or via email. The whole team can help design an individual health plan. Patients can check in as often as they want to report on success in controlling blood pressure, blood sugar levels, and other conditions that can be measured with tests at home. 
When specialty care is needed, the team doesn't just make a referral. It sets up the appointment and makes arrangements to share the patient's records. And if a new drug doesn't seem to be working or is causing unpleasant side effects, the patient doesn't have to wait six months until the next appointment to deal with it.
"There's what I would call a 'concerned connectedness' with the whole staff to take care of everything from the small-time crisis to long-term health planning," Whitten says.
Jennifer Zreloff, one of the two physicians who staff the clinic, is quick to emphasize that the medical home concept "isn't trying to re-invent medicine. But we are re-inventing the system for support of how we practice," she says. 
By sharing patient-monitoring duties with nurses and specially trained staff members, physicians spend more quality time with each patient—meaning longer appointments and more face-to-face time discussing lab results, tests, and patient concerns, Zreloff says.
"That sounds like something that should be relatively easy to set up, but with the payment mechanisms in place in most medical settings, we are constantly pushed for volume—to see as many patients as possible—so we can maximize reimbursement," says Jeff Lesesne, chief of internal medicine services at the Emory Clinic and a major promoter of the accountable care concept. "This changes the whole paradigm."
Rather than a fee-for-service basis, the Aetna-administered Emory health plan pays the practice a fee for the full range of services it provides to enrolled patients, including encounters where they don't come into the office or see a physician. The goal, Lesesne says, is to improve patient care and control costs by cutting down on the need for crisis or acute-care interventions. 
Expanding the practice
Emory's PCPC clinic, established in July 2011, has attracted more than 1,800 patients thus far and could expand to as many as 3,500 over the next year, according to Lesesne. For now, access is limited to Emory employees, retirees, and their dependents, as well as patients enrolling through Aetna's Medicare Advantage program. But it could easily expand, Lesesne says, given the overwhelmingly positive feedback the clinic is getting from patients and as evidence mounts that this approach is managing patient care better than traditional practice models.
On industry-standard, patient-satisfaction surveys, Lesesne says, the medical home clinic is scoring in the 99th percentile—compared with most doctors' practices, including those at Emory, that routinely score in the 70s or 80s.
The initial success of the clinic helped Emory decide to set up a workplace practice at Delta Airlines' headquarters near Atlanta's Hartsfield-Jackson International Airport. Delta employees had access to a walk-in clinic there for several years, but now an Emory physician will be available on site to provide a range of primary care services under a similar medical home model. 
Ron Whitten understands why the PCPC is getting such high marks from patients. "I'm close to ecstatic about it," he says. "It is exactly what we were looking for."
Related Link: