Living with LAM
Emory has one of the few clinics in the country that treat LAM, a rare lung disease
By Quinn Eastman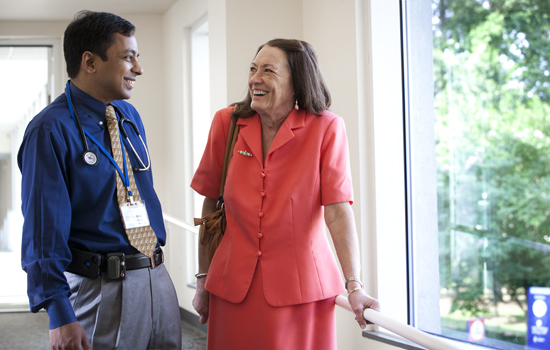 More than a decade ago, Teresa Stoker was told that she had only a few years to live. Today, she has advice for other women with the same disease that she has: "Don't pick out funeral music yet."
In 2001, Stoker experienced a painful collapsed lung, or pneumothorax, which required surgery to correct. Her doctors initially thought the cause was physical trauma, then asthma. She eventually learned that she had lymphangioleiomyomatosis, or LAM—a rare, progressive lung disease that appears to affect women almost exclusively.
At the time, only a few options were available to treat the condition: oxygen, then as the disease advanced, a lung transplant. Stoker sought treatment at the NIH and later regularly flew to Cincinnati to participate in a clinical trial.
In the past decade, a surge of interest in LAM has led to studies of promising drugs and establishment of a network of LAM clinics across the country. In 2011, Emory joined the network, sponsored by the LAM Foundation, and to date offers the only LAM clinic in Georgia.
"I think the push has come from patients themselves," says pulmonologist Srihari Veeraraghavan, co-director of the Emory LAM clinic along with Gerald Staton. "The idea for the specialized clinics is to aggregate a critical mass of services." That includes a full spectrum of care, latest information on LAM, access to clinical trials, and peer support."
In LAM, smooth muscle cells grow uncontrollably and enter the airways, forming clusters and cysts in the lungs. This growth damages the lungs, leading to shortness of breath and pneumothorax. In addition, 40% of LAM patients have benign kidney tumors. Some cases appear to be genetic. The skew toward women may point to a role for estrogen in driving the growth of the smooth muscle cells.
LAM can be mistaken for asthma, bronchitis, or emphysema and is often misdiagnosed, since a pulmonologist typically might see only one or two cases in a lifetime. A high-resolution CT scan or biopsy is usually required for diagnosis.
Stoker, who leads a nonprofit LAM organization in Atlanta, has become an informal adviser to other Georgia women with a LAM diagnosis. Although she has had to curtail some outdoor activities, she says that so far: "It's a part of my life. It does not run my life."