How will we pay for Alzheimer's?
Even though the threat posed by Alzheimer's disease to government health programs continues to grow, federal funding for the disease has not kept pace.
By Mike King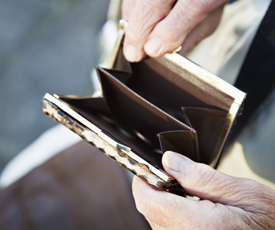 Consider that the cost of treatment for AD this year is estimated by the Alzheimer's Association to be $200 billion, with about $140 billion being paid for by Medicare and Medicaid. This figure will grow exponentially as the nation's elderly population enters their retirement years and more turn to state Medicaid programs to pay for nursing home care.
By the numbers
5.4 million
Americans affected by the disease

15.2 million
Friends, family members, and loved one who care for them

17.4 billion
Hours of service provided by caregivers who are unpaid

$183 billion
Total costs of doctor, hospital, nursing home, and hospice care for AD patients in the United States in 2011

$1.1 trillion
Projected cost of AD services in 2050, if current trends hold

$174,000
Average lifetime care cost for an AD patient
Yet NIH funding for research and treatment is paltry for AD (about $450 million this year) compared with cancer ($5.4 billion), cardiovascular/lung disease and hypertension ($4 billion), and HIV/AIDS ($3.1 billion).
Advocates say it speaks to the fact that research money goes first to diseases that kill and disable at an early age. Allan Levey, director of Emory's Alzheimer's Disease Research Center (ADRC), suggests an additional reason. Funding for research often depends on public advocacy, and AD funding, in comparison with that for other diseases, has been hindered by the social stigma of AD itself. Plus there are no survivors to champion the cause. No Lance Armstrongs. No Dick Cheneys. No Magic Johnsons.
While much of Emory's ADRC funding has come through the NIH—$12.5 million since 2005 —federal dollars actually declined over the past year, according to Janet Cellar, the Emory ADRC's administrative director.
But there are hopeful signs. In May, Secretary for Health and Human Services Kathleen Sebelius unveiled the first national plan to address AD. Some $50 million in the current NIH budget has been assigned to AD research considered too promising to delay. Another $100 million is proposed for new research funding for the 2013 fiscal year, including $20 million for education, outreach, and support for families affected by AD. The additional spending is needed to begin implementing the National Alzheimer's Project Act, a blueprint for AD research and treatment that passed Congress with bipartisan support in 2011.
Getting the money appropriated in the extremely partisan environment is no sure thing, advocates say. That means research centers will continue to rely on private funding.
Fortunately, Emory has benefited from the resources of community members who want to help. Last year, Atlantans Sarah and Jim Kennedy contributed $5 million to a project aimed at increasing neurotransmitter norepinephrine levels in patients in early stages of the disease. Similar help has come from the Rich Foundation. Sylvia Dodson, who cared for her husband when he was dying of AD, has set up a $1.3M bequest for AD research. On a community-wide scale, the ADRC benefitted from two musical events, one by the Atlanta Symphony, sponsored by the Coca-Cola Company, and a violin concert with Robert McDuffie sponsored by the family of the late Atlanta real estate developer, Mack Taylor, who died of AD in 2008.
Researchers also are turning to the states for help, says Levey. Florida, California, and several other states have set aside funds to support researchers in the battle against AD. Wisconsin spends about $500,000 annually to help create a statewide clinical care network.
While Georgia doesn't fund AD programs directly, funds distributed through the Georgia Research Alliance are used for capital expenses, Levey says. "We're not where we need to be with funding, given what lies ahead," he says. "But as awareness and the demand for services increases, we're hopeful funding will follow. We now have many good ideas about the cause of AD. Time and money are the most important limiting factors.