Honoring Miss Lillian
Robert F. Kennedy Jr. speaks to nursing students and faculty.
By Pam Auchmutey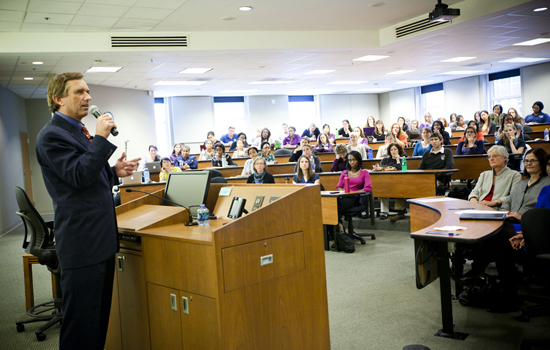 Emory nursing students now know what makes environmentalist Robert F. Kennedy Jr. a force for change. He doesn't ever STOP.
His energy and drive were evident as he spoke to nursing students and faculty during the 10th anniversary celebration of the Lillian Carter Center for Global Health & Social Responsibility. The night before, he had stayed up all hours on a business call to the Middle East before catching an early morning flight from New York to Atlanta. "There was lots of yelling," Kennedy joked to explain his hoarseness.
A strained voice didn't deter him from describing his experiences as a social activist or his admiration for Lillian Carter, the center's namesake. He met the former nurse and Peace Corps volunteer in 1978, when he and his Harvard roommate arrived unannounced on her doorstep in Plains, Georgia. They hoped that she and her son, President Jimmy Carter, could stop the execution of the roommate's father, the deposed president of Pakistan. Sadly, their efforts proved unsuccessful.
 "Lillian Carter was very kind to me personally," Kennedy told nursing students last fall. "I am happy to be in a place that bears her name."
It was October 15, 2001, when President Carter dedicated the center named for his late mother, who died in 1983 at age 85. While raising her young family, Miss Lillian worked as a registered nurse, caring equally for patients regardless of color in the days before integration. In 1966 at age 67, she joined the Peace Corps to serve in India as a family planner and nurse in a rural clinic, where she saw suffering unlike any she had ever seen.
"Miss Lillian was known for her work as a public health nurse and advocate for social justice and health care," says Linda McCauley, dean of Emory's Nell Hodgson Woodruff School of Nursing. "Our center has stayed true to Miss Lillian's vision of caring for those in need."
For examples, faculty and students work with underserved populations in the Caribbean during winter break, assess the health of migrant farmworker families in South Georgia each June, and work with homeless populations and provide care to senior citizens in Atlanta throughout the year. Last summer, students partnered with Cabin Creek Health System in the coal-mining region of West Virginia. In Florida, the Dominican Republic, and Africa, faculty and student researchers study how to improve the health of pregnant women, new mothers, and babies. In Kenya and Zimbabwe, nursing leaders collaborate with Emory faculty to build and sustain the health workforce.
"I'm so impressed by the commitment of this school," Kennedy said during his visit to Emory. Today, he leads the Waterkeeper Alliance, an international network that protects the world's waterways. In 2010, Time.com named him as one of its "Heroes for the Planet" for aiding restoration of the Hudson River and the fishing economy of communities along its banks.
Shortly after his visit, Emory students viewed The Last Mountain, an award-winning documentary featuring Kennedy that chronicles the fight of West Virginians to halt coal strip mining in their community. The film premiered in southern West Virginia last June, the night before Emory nursing students arrived to work with patients served by Cabin Creek Health System.
The film, coupled with Kennedy's visit, demonstrated to students what it takes to move mountains to protect the health of communities. Nurses see firsthand how the environment affects people with asthma, allergies, cancer, and other illnesses. They also play a critical role in debates about the future of the country.
"Get involved in the political process," Kennedy urged the Emory students. "The only thing that can save our environment is democracy."