Looking at the Individual
Charity care at Winship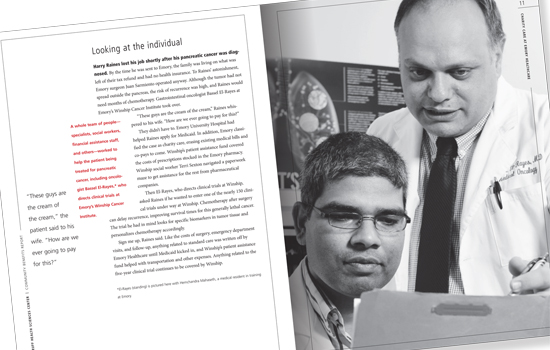 Harry Raines (not his real name) lost his job shortly after his pancreatic cancer was diagnosed. By the time he was sent to Emory, the family was living on what was left of their tax refund and had no health insurance. To Raines' astonishment, Emory surgeon Juan Sarmiento operated anyway. Although the tumor had not spread outside the pancreas, the risk of recurrence was high, and Raines would need months of chemotherapy. Gastrointestinal oncologist Bassel El-Rayes (above, right) at Emory's Winship Cancer Institute took over.
"These guys are the cream of the cream," Raines whispered to his wife. "How are we ever going to pay for this?"
They didn't have to. Emory University Hospital had helped Raines apply for Medicaid. In addition, Emory classified the case as charity care, erasing existing medical bills and co-pays to come. Winship's patient assistance fund covered the costs of prescriptions stocked in the Emory pharmacy. Winship social worker Terri Sexton navigated a paperwork maze to get assistance for the rest from pharmaceutical companies.
Then El-Rayes, who directs clinical trials at Winship, asked Raines if he wanted to enter one of the nearly 150 clinical trials under way at Winship. Chemotherapy after surgery can delay recurrence, improving survival times for this generally lethal cancer. The trial he had in mind looks for specific biomarkers in tumor tissue and personalizes chemotherapy accordingly.
Sign me up, Raines said. Like the costs of surgery, emergency department visits, and follow-up, anything related to standard care was written off by Emory Healthcare until Medicaid kicked in, and Winship's patient assistance fund helped with transportation and other expenses. Anything related to the five-year clinical trial continues to be covered by Winship.
WEB CONNECTION   This story is excerpted from the Community Benefits report for 2011, Extraordinary people: caring every day. The report features stories of Emory's impact on the community and examples of charity care provided by Emory Healthcare. According to the report, Emory's economic value to the community totaled $425.1 million in fiscal year 2010-2011, including charity care, financial aid for students, investments in teaching and research, and unreimbursed care at Grady Hospital, among other benefits. To read more patient stories from the report, visit bit.ly/communitybenefits2011.