Order up
Fresh-to-order patient meals at Emory Hospital Midtown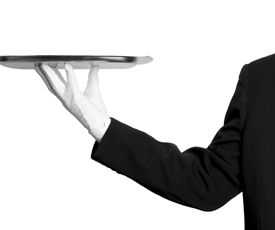 I'd like the pecan-crusted tilapia with a side salad, Thousand Island dressing, asparagus, and a roll.
Oh, and some apple cobbler for dessert.
Patients at Emory University Hospital Midtown (EUHM) can place such an order from 6:30 am–7 pm in a new room service dining program that will deliver meals of patients' own choosing to the bedside. EUHM is the third Emory hospital to offer fresh-to-order meals from a restaurant-style menu, allowing patients to choose what and when they are served.
Although the room service model costs more than traditional inpatient dining, it reduces food waste and supplies. Even better, patients with access to room service dining tend to eat better in the hospital when they can select their own meals based on how they feel and when they are hungry.
They can schedule meals around tests and procedures, allowing them to avoid missing a meal or having to eat cold food delivered while they were out. The dining staff at EUHM expect to deliver more than 300 meals during any given mealtime throughout the day.
The ultimate goal for the new room service program is a higher level of patient satisfaction.