Running the dream
Darlene Goode crosses the finish line.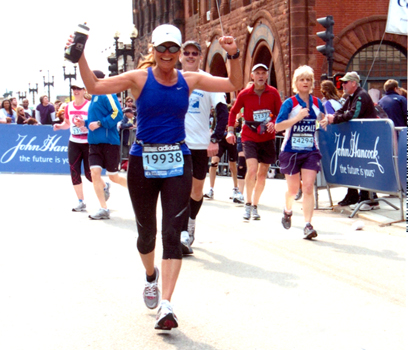 When Darlene Goode returned to see Emory spine specialist John Heller for a one-year follow-up, she gave him reason to smile when she handed him a photo that showed her crossing the finish line at the Boston marathon.
Goode, 49, had originally seen Heller about severe back and shoulder pain. She had been running for nearly 10 years when numbness and pain set in. "Back in 2008 while I was training for the Jacksonville marathon, my left hand was going numb, and it was much colder than the right," says Goode. "That was my very first inkling something was wrong."
In 2009, after trying for eight years, Goode finally qualified for the Boston marathon. But by year's end, the numbness in her hand had spread to pain in her shoulder and back. The discomfort worsened to the point that she stopped running, biking, and swimming. Although she tried several nonsurgical treatments to beat the pain, nothing worked. Then an MRI showed significant degenerative disc disease in her cervical spine, in the vertebrae and discs that span from the base of the skull to the chest.
"A disc is a combination shock absorber and universal joint that connects vertebrae," says Heller, the Michael and Laura Baur Professor of Orthopaedics. "As we age, we can end up with shrinking discs and bone spurs, which can compress the spinal cord or nerve roots. Probably 90% of what we take care of here is wear and tear disorders of the spine. People can wear out their parts."
When conservative methods, such as anti-inflammatory medicine and physical therapy fail to ease the symptoms, surgeons may recommend removing the worn out discs, then rebuild and fuse the spaces between the vertebrae. In Goode's case, Heller recommended what's known as a multi-level cervical discectomy and fusion.
A discectomy involves removing one or more damaged disks. To keep the vertebrae from collapsing onto one another after discs are removed, surgeons fill the space between the vertebrae with a bone graft, which allows the vertebrae to grow together (fuse). In turn, fusion facilitates spinal stability, with reduced degrees of flexibility. "In essence, the patient is trading a certain amount of motion in their cervical spine for relief of their problem," says Heller.
Goode's surgery involved four of her seven cervical vertebrae. The more vertebrae involved, says Heller, the higher the chances are that surgery won't be fully successful. 
Still, Goode felt comfortable with the risk and agreed to it—on one condition. "I told Dr. Heller it was crucial that if I had this surgery, I'd have to be back to running within a certain period because I absolutely had to run the Boston marathon in April 2011," she says. "And I knew I was going to need at least six months to get ready."
Heller says successful surgical outcomes depend on a variety of factors, including a highly motivated patient who wants to get well and do her part to make it happen. "That's the secret sauce," he says.
Goode was highly motivated. Three months after surgery, she hit the road running. "My first run after the surgery was exhilarating because for the first time I was pain free," says Goode. Six months later, right on schedule, she headed to Boston.
"I ran Boston to thoroughly take it in and enjoy every mile," she says. "There was a little girl on the course who ran out and handed me a Twizzler. I thought, I'm going to stop and eat my Twizzler because this isn't about the race. This is about the journey of getting here. And when I get home, I'm going to see Dr. Heller and say, 'You know what, we did this together.'"
Goode's next stop? An ironman triathlon in Panama City, Florida.
WEB CONNECTION   To see a video of Goode talking about her running career and surgery, visit bit.ly/goodemarathon.