Spotlight on caregiving
By Dana Goldman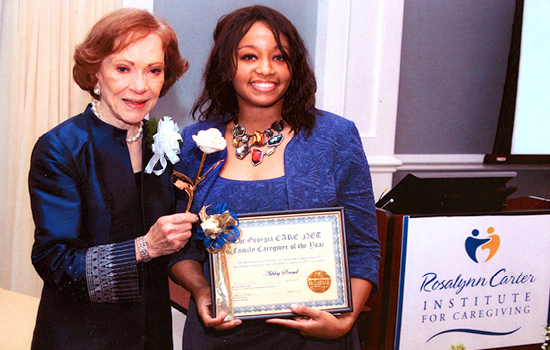 On the first day of her internship in social work on Emory's Wesley Woods campus, Ashley Stroud didn't act like a beginning intern. She greeted staff by name, navigated hallways with ease, spoke comfortably with residents, and seemed to feel right at home.
In many ways, she was. While new to the field of social work, Stroud is no stranger to Wesley Woods and Emory. The 25-year-old has logged countless volunteer hours from speaking to nurses at Emory University Hospital as a patient family adviser to collaborating with the Wesley Woods Geriatric Hospital Entity Council. In fact, her work at Emory and elsewhere and her role as a family caregiver led the Rosalynn Carter Institute for Caregiving to name her Georgia's Family Caregiver of the Year in 2012.
Stroud's volunteer activities helped influence her to pursue a master's degree in social work, and family circumstances also played a part in her decision. At age 20, Stroud assumed legal and medical responsibility for her father, who has struggled with severe mental illness for years, and she began volunteering with the National Alliance on Mental Illness. A few years later, when her grandmother and mother became seriously ill with life-threatening conditions and had to be hospitalized for significant amounts of time, Stroud found herself caring for three family members. She coordinated finances, medical care, and legal concerns while working to carve out plans for her own life.
"I didn't realize that what I was doing was care coordination," she says now. "But when I discovered that so many people struggle because they don't have the resources to do that, I knew that a career in social work was what I wanted."
Along with discovering her calling, Stroud also learned some hard lessons of caregiving, including the challenge of isolation. "I really did feel alone," she says. "That's the reason I became so proactive in trying to find resources and organizations and education." She volunteered with the Alzheimer's Association, connected with others through a caregiver network, and became a patient family adviser at Emory. She also participated in a research project at Emory that focuses on caregiving for heart failure patients.
"I don't see many 20-somethings who are responsible for three adults with significant health care needs," says Emory geriatrician Monica Parker, who has provided primary care to Stroud's grandmother for a decade. "Ashley was determined to be responsible for them. She was extremely selfless."
As Stroud prepares for her summer as a National Council on Aging Fellow in Washington, D.C., she hopes to turn the spotlight on caregivers everywhere. "I want family caregivers to have a voice and be visible," she says. "There are resources and support out there."
---

Emory is continuing to enroll family caregivers of patients with heart failure in research to improve the health of caregivers and decrease stress. For additional information, call the study coordinator at 404-712-8478.
---

Related Resources
Wesley Woods Geriatric Hospital
Rosalynn Carter Institute for Caregiving