News at a glance
New blood
Transfusion of donated blood more than three weeks old results in impaired blood vessel function, according to a new study of hospital patients at Emory. Older blood might be detrimental to patient health due to a deficiency in nitric oxide, a short-lived chemical messenger that relaxes blood vessels. The finding could have implications for blood banks, which now consider six weeks to be the maximum permitted storage time of blood for use in transfusion.
---
Answering the call for chronic care
At the Nell Hodgson Woodruff School of Nursing, Christine Feeley (right) is a post-doctoral fellow who is concerned with sleep quality, stress, caregiver burden, and quality of life in mothers whose children have bronchopulmonary dysplasia. Brittany Butts (center), in her first year of doctoral studies, is working to reduce inappropriate use of emergency rooms by patients with chronic illness. Nancy McCabe (left), a third-year doctoral student, is looking at self-management of behaviors in adults diagnosed with congenital heart disease as children. All three nursing scholars are among the first at the school to benefit from a $1.5 million training grant from the NIH to nursing schools across the nation to improve outcomes for patients with chronic illness. According to the CDC, chronic disease causes seven out of every 10 U.S. deaths. Paired with a faculty mentor, Emory nursing scholars will study chronic conditions by surveying markers of disease and examining the cost-effectiveness of interventions. A key goal is to strengthen patient self-management to encourage healthy behaviors and adherence to complex regimens to control disease. –Pam Auchmutey
---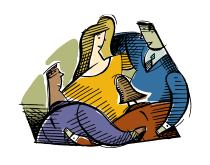 Integration in action
Emory's clinically integrated network (CIN) is a group of physicians and hospitals that coordinate care among members and thereby improve quality outcomes and manage costs more efficiently. The CIN received a major endorsement when Emory Health-care contracted with Blue Cross Blue Shield of Georgia to provide care to BCBS-covered patients. "This is a major milestone for us," says Patrick Hammond, chief executive director of the CIN. "BCBS is the largest payer in the state, and we are the first organization in Georgia they have partnered with."