The heart and soul of Saint Joseph's
By Dana Goldman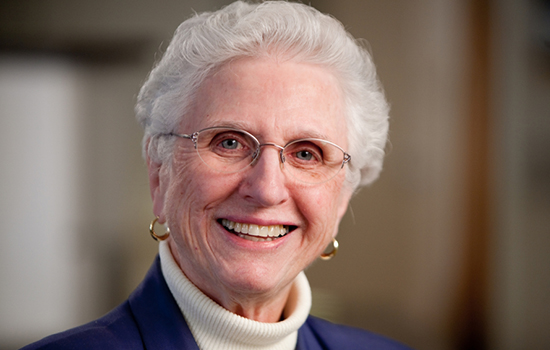 At each new employee orientation session for Saint Joseph's Hospital, after new staff and volunteers have worked through a deluge of paperwork, an 82-year-old nun walks into the room to pose a simple, unexpected, question: "Have you ever thought of yourself as being sacred?"
As director of mission integration, Sister Valentina Sheridan is the caretaker of the values that have been central to Saint Joseph's since its founding in the late 1880s by the Sisters of Mercy. Among those values is the belief that each person, from housekeeper to patient to doctor, is sacred.
Describing that belief to new employees and volunteers is one of the favorite parts of her job, she says.
"It seems to me that at any given time I've found the greatest joy in the place that I was," says the woman known as Sister Val. That place has been Saint Joseph's since 1994 when she began as director of pastoral care. She is the hospital's living spirit-bearer: hugging staff, volunteers, and patients and praying with and for them, if they like. While doctors provide a ministry of medicine, hers is one of presence.
"When you stop and recognize somebody, that does something for them," she says. "So I do that with people I see in the elevator, people I see walking down the hall."
"She is comforting them emotionally and spiritually. She is Saint Joseph's Hospital," says Debra Bloom of Emory Healthcare's development office. Bloom helps coordinate Emory Healthcare's Second Century awards, recognizing community leaders who have had the most impact on each of the Emory hospitals. Sister Val was a recipient of the award earlier this year, when the new Saint Joseph's Hospital Award was named the Sister Valentina Sheridan Award in her honor.
"It's humbling—truly humbling," says Sister Val of the award. "But what it keeps throwing back to me is: you have a gift. Use that gift for others."
In 2007, the nun became the hospital's first-ever director of mission integration. "I was 75 at that time and I wanted to slow down a bit," she says, halfway through the latest in a string of 8- to 10-hour days. She does think about retiring—one day. "I can be tired and think, 'Oh, God, please help me today.' All I have to do is walk inside these doors and people are so gracious and loving," she says. "It gives me life."
---

The Second Century awards recognize leaders and catalysts for change at Emory hospitals who have set high standards for future generations. In addition to Sister Val at Emory Saint Joseph's Hospital, the 2013 recipients include William Wood (Joseph Brown Whitehead Professor and Chair of Surgery for 20 years), Daniel Barker (director of both Emory University Hospital and EUH Midtown—known during his tenure as Crawford Long Hospital—for a combined total of 30 years), and the Emory Johns Creek Hospital Auxiliary (with 150 volunteers who support the hospital through a wide array of activities and are its ambassadors to the community).