Pictures of Health
Campaign Emory has raised $1.17 billion for a healthier future for Georgia.
By Jennifer Wheelock, Illustrations by Mike Austin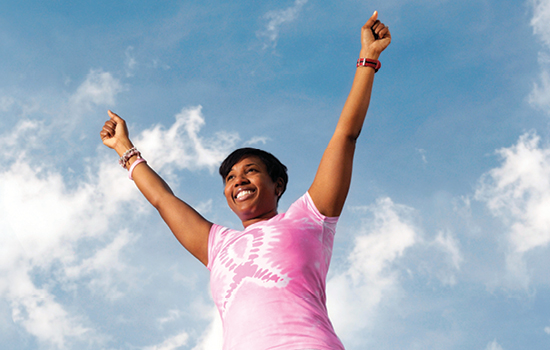 In the largest fund-raising effort ever undertaken in Georgia, Campaign Emory has raised more than $1.69 billion, with $1.17 billion going to support Emory's Woodruff Health Sciences Center (WHSC). Behind those numbers are the 149,000 alumni, faculty, staff, parents, students, grateful patients, and friends who have contributed to a healthier picture for research, education, and patient care for Georgia and the region.
For the tiniest babies (and their moms)

Auxiliaries at Emory University Hospital (EUH) and EUH Midtown gave a combined $212,000 to support their hospitals, including $70,000 to expand neonatal intensive care and support maternity center patient and family services at EUH Midtown.

The nursing influence, at home and abroad

Grants led by nursing researcher Lynn Sibley are improving maternal and newborn survival rates in rural Ethiopia, a key academic focus area of the nursing school. Including gifts of $8.16 million from the Bill & Melinda Gates Foundation and $4.5 million from the Canadian International Development Agency, the school generated more than $27 million in private funding during the campaign.

Jumping over hurdles in head and neck cancer

Established with a $2.5 million planned gift, the Lynne and Howard Halpern Chair in Head and Neck Cancer Research honors Fadlo Khuri as deputy director of the Winship Cancer Institute and leader of the head and neck cancer program.

Kids count

The Marcus Foundation committed more than $11 million to Emory's pediatrics department. The gifts created the Marcus Society in Pediatrics. The society is the "intellectual home" for 15 Marcus professors who have expertise in the full gamut of pediatric specialties.

Building contributors include: the O. Wayne Rollins, Joseph B. Whitehead, Robert W. Woodruff, Zeist, Martha and Wilton Looney, Katherine and John Murphy, and Luther and Susie Harrison foundations; the David, Helen, & Marian Woodward Fund, the Georgia Research Alliance; Raymond F. Schinazi; Margaret Hirst Davis; James and Helen Carlos; and an anonymous donor.




Room for research

The new Health Sciences Research Building, a collaboration between WHSC and Children's Healthcare of Atlanta, devotes more than half of its 200,000 square feet to pediatric research. It also houses researchers in adult cancer, immunology, and drug discovery and includes a two-story working bridge that connects the building to the Emory-Children's Center. The Brumley Bridge is named in memory of Zeist Foundation founder George Brumley Jr., who led Emory's pediatrics department and was medical director at Children's.
A family's fight against Alzheimer's

Mary Rose Taylor, whose husband Charles "Mack" Taylor died of Alzheimer's disease, has rallied her family and community through fund-raising events and personal contributions of more than $1 million to support the Emory Alzheimer's Disease Research Center—the only comprehensive Alzheimer's center in Georgia and one of only 32 nationwide supported by the NIH.

Global gifts

Campaign Emory spurred transformative gifts on the world stage, including commitment of more than $10 million from the Hubert Foundation. The support enabled the Rollins School of Public Health to name the Hubert Department of Global Health (the first endowed department at Emory), endow two chairs, and increase support for students to pursue global health research.

Making discoveries make a difference

The family of John Brock, chairman and CEO of Coca-Cola Enterprises, has established the John and Mary Brock Diagnostic and Discovery Fund to help Emory researchers and physicians more quickly bring discoveries from the lab to the clinic.

Class acts

In 2008, graduates receiving the bachelor of science degree in nursing designated their senior class gift for the Service Learning Trip Scholarship Fund. The fund provides scholarships for nursing students to participate in alternative winter and spring break programs in Jamaica, the Bahamas, and the Dominican Republic, where they provide health care and education.

Supporting a socially responsible career switch

Funded through a $5 million endowment from the Helene Fuld Health Trust, the Fuld Fellowship program at the Nell Hodgson Woodruff School of Nursing is awarded to students with previous undergraduate degrees in fields other than nursing who want to become nursing leaders focused on issues of social responsibility.

Nurturing hope for cancer cures

Jim Kennedy, chair of Cox Enterprises, and his wife, Sarah Kennedy, are among many Georgians who want to help find a cure for cancer. The Kennedy Pilot Grant Research Awards help young cancer investigators develop novel ideas. The gift also supports recruitment of researchers and development of the survivorship program at Emory's Winship Cancer Institute.
Rising to new heights

The Claudia Nance Rollins Building, made possible by a $50 million commitment from the O. Wayne Rollins Foundation, is named for the mother of longtime Emory benefactor O. Wayne Rollins and his brother John. Ranked sixth among the nation's schools of public health and with more than 1,100 students, the Rollins School of Public Health receives more applications for its masters programs than any public health school in the country.

The tower that Woodruff built

Continued generous support from the Robert W. Woodruff Foundation is helping Emory Healthcare provide an ideal patient-centered experience with construction of a nine-story 210-bed tower for Emory University Hospital. The expansion will include a pedestrian walkway connecting the existing hospital to the new tower and parking facilities.