More Briefs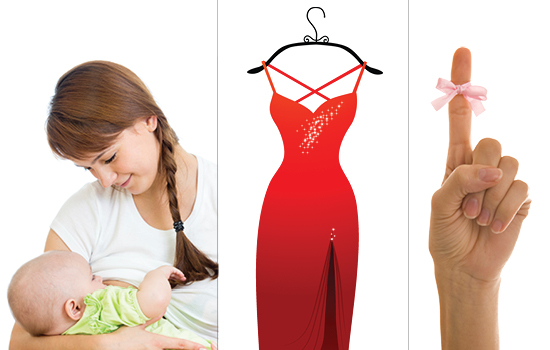 Baby on Board
Emory University Hospital Midtown is one of only 90 hospitals in the country and seven in Georgia to participate in a new national effort to improve breastfeeding rates in states where rates are currently the lowest.
Although breastfeeding is one of the most effective preventive health measures for infants and mothers, half of the babies born in the United States are given formula within the first week of life.
The initiative, Best Fed Beginnings, seeks to reverse the trend by dramatically increasing the number of hospitals implementing a proven model that supports a new mother's choice to breastfeed.
Related Link: "Emory selected for program to increase breastfeeding rates"
---
Have a Heart
Have a heart: Emory's Leslee Shaw is the recipient of a Red Dress Award from Woman's Day, in recognition of her work to improve the way doctors diagnose and treat heart disease in women.
Related Link: Red Dress Awards 2013
---
Alzheimer's discovery
Researchers have identified a new genetic variation that increases the risk for late-onset Alzheimer's disease by a factor of three. The finding, published in the New England Journal of Medicine, is the result of an international collaboration between deCODE genetics in Iceland, Emory's Alzheimer's Disease Research Center, and institutions in Germany, Norway, and the Netherlands. Although rare, the new variant is important because it adds to a growing list of genes linked to Alzheimer's disease, and it provides clues to causal mechanisms. The mutation is in a gene, TREM2 (triggering receptor expressed on myeloid cells 2), which is expressed in microglial cells and appears to regulate inflammation in the brain. These findings suggest that altered microglial function and inflammation are risk factors for Alzheimer's disease.
Related Link: "New Alzheimer's risk gene identified"
---
Breast cancer is the most common cancer diagnosed in women.
The National Cancer Institute estimates that about one in every eight women will face a breast cancer diagnosis. But one Atlanta family is stepping up to combat those odds. Two gifts totaling $10 million from the Wilbur and Hilda Glenn Family Foundation will fund and name the Glenn Family Breast Center at Emory's Winship Cancer Institute. The gifts allow Winship to expand its tumor bank, clinical trials, community access, and multidisciplinary approaches to screening and caring for women at high risk for breast cancer.
Related Link: "Atlanta foundation's gifts establish Glenn Family Breast Center at Winship Cancer Institute"
---
Integrating Health Data
"Now that we have electronic health records and the ability to integrate data from all sorts of streams—financial data sets, administrative data sets, health outcomes data sets—we can marry those together. With that marriage, we can redesign health care."
—Christian Larsen, Dean of the Emory School of Medicine and VP for Health Center Integration