Why Do We Still Smoke?
We know it's bad for us, but 19.8% of Americans can't quit. How Emory is tackling this health hazard.
By Kay Torrance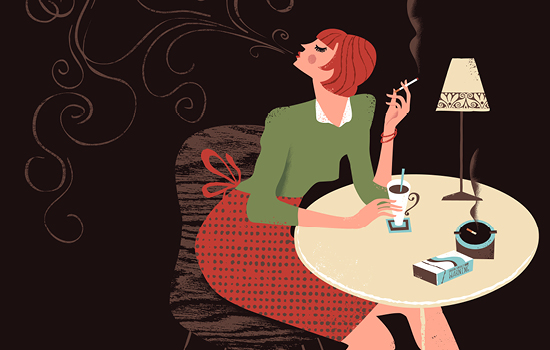 Every Sunday night, I love to watch Mad Men, a drama set in a high-flying, high-pressure New York advertising agency in the 1960s. There are engrossing story lines, snazzy mid-century set designs, and smoke—lots of smoke. The characters smoke at home, in the office, in restaurants. They smoke so much that I wonder how they find their desks through the haze.
Today that situation is upended. One would be hard pressed to find an office where ashtrays are commonplace and smoking is allowed. Knowledge about the devastating health effects of firsthand and secondhand smoke has led many to steer clear of cigarettes or to kick the habit.
The first U.S. Surgeon General's report to address smoking and its health hazards was in 1964.
The government then jumped in further and required warning labels on tobacco products, raised taxes for cigarettes, and mandated that they be kept behind store counters. It banned television advertising of cigarettes in 1971, followed by billboard ads in 1999. In turn, insurance companies began charging higher medical premiums for smokers and pushed cessation programs. In 1980, the Nonsmokers Rights Movement began to enact smoke-free workplace laws that now prevail in restaurants, bars, and even some casinos. Workplaces—including Emory—have banned smoking on company property, even outside.
All of these moves, Emory researchers say, have led to a decline in smoking. Although it is no longer cool—the Marlboro Man rode off into the sunset years ago—some 19.8% of Americans still smoke, according to the CDC. For this group, no public health or medical intervention has worked—not the cringe-worthy television commercials showing people with advanced-stage lung cancer, not strong health warnings on cigarette packs, not the availability of nicotine patches and gum. Why?
| | |
| --- | --- |
|   | |
True, national smoke-free policies and high excise taxes levied by some states have failed to reach some of these continuing smokers. The CDC believes that non-smoking interventions should be population-wide and reach throughout large systems of health care. However, to make a big push against smoking, a different approach can help, say Emory researchers. Rather than a typical cessation program that focuses on stress reduction and behavior modification training, smokers need individualized counseling simply because there are vast differences in why different age groups and people smoke.
Claire Sterk, Charles Howard Candler Professor of Public Health, remembers one of her own college professors from the 1980s who used to smoke continuously while he lectured. In all the information about smoking that Sterk gathered over the years, not one study had asked smokers why they smoked or specifically what smoking meant to them. She and colleague Kirk Elifson set out to gather these perspectives to add to the body of knowledge from experts, conducting a study funded by the NIH of smokers from age 18 to 72 to find out why, simply by asking smokers about the meaning of smoking.
The reasons varied from "it helps me relax" to "it gives me energy." Some only smoked around friends, when under stress, or when figuring out a daily routine. Older smokers tended to be self-deprecating. Younger smokers spoke of their right to do what they wanted. Yet most of the smokers also mentioned the many times they had tried to quit.
"When smokers have tried to quit eight, nine, or 10 times, it becomes like a mission," Sterk says. "Smokers stay optimistic that they ultimately will quit. It's like a revolving door, one that some day they will exit. The reasons they give as to why they continue to smoke make sense to current smokers. But people are not always rational, instead providing justifications for actions they want to change. Otherwise there would be no drunk driving, no obesity."
Sterk says that the anti-smoking measures that have been enacted so far should not be abandoned. After all, they have helped bring down the smoking rate from more than 40% in 1965. But many of today's smokers "need interventions that are based on the meaning they attach to smoking. We need to meet people in the place where they are. Having knowledge alone doesn't mean you are going to act on it," she says.
The commercial soft sell
One of the hardest subsets to reach may be college students or young adults, says Carla Berg, a behavioral scientist at Emory's Rollins School of Public Health. Young adults, she has found, are unlikely to consider themselves to be smokers and often rationalize their behavior, making them a difficult group to target.
More than half of college students in her recent study failed to label themselves as smokers. Yet they had smoked at least once in the previous 30 days. Some said they had quit smoking although they had smoked as recently as the day before. If they didn't think of themselves as smokers, then the idea of quitting seemed irrelevant. Smokers buy cigarettes, some said, but someone who "bums" a cigarette every now and then isn't a smoker.
Does this parallel how young adults think about alcohol consumption? Probably, Berg says, because they probably drink more than they realize. "But smoking is unlike alcohol, which does have some health benefits. There is no safe level of tobacco use."
Berg, who also is helping to develop a traditional cessation program for cancer survivors at Emory's Winship Cancer Institute, is currently testing humorous anti-smoking commercials geared to college students. The story lines play off of what students value, such as being socially accepted or perceived as physically attractive. There is no preaching, no finger pointing, no graphic images. "One thing that we are trying to show is that it's no less disgusting if you only smoke when you are drinking than if you smoke all the time," she says.
Other research is sidestepping the issue of quitting and focusing on secondhand smoke instead. Michelle Kegler, director of the Emory Prevention Research Center, along with Berg and colleague Cam Escoffery, is working with United Way of Greater Atlanta to ask smokers to commit to smoking only outside. Families who call United Way's 2-1-1 helpline and have at least one smoker in the home can enroll voluntarily in the study. They receive three mailings and one counseling phone call to help them develop a "no-smoking" zone inside the home, including how to address challenges such as a resistant smoker.
"Many of these families have children, and this is one way of protecting them," Kegler says. "The home is the No. 1 place for second-hand exposure among children. We are reinforcing a norm that smoking is bad for health. This program is another social force to discourage smoking."
Kegler thinks the program's structure is key to its potential success. There are no long counseling sessions to attend, and the smoker is not being asked to quit. "It's a quick and easy intervention," she says.
In the study's first group of 40 households, 100% allowed smoking inside at the beginning of the program. At the program's completion, 33% had totally banned smoking inside. Smokers reported smoking fewer cigarettes per day, and 65% of them reported trying to quit. Kegler expects 5% to 10% of smokers in the study will quit in the long-term. That's not a very high rate, she says, but finding new ways to help smokers quit permanently is an ongoing public health challenge.    
Kegler agrees that current anti-smoking measures are working, particularly cigarette taxes, which have been shown to ward off young people from smoking. While cessation programs are valuable for current smokers, she says, public health interventions have changed social norms around smoking and have prevented many people from taking that first puff. EH
Taking on tobacco control, state by state
To help state and local governments with tobacco control programs, Emory's Rollins School of Public Health created the Tobacco Technical Assistance Consortium (TTAC) in 2001.
TTAC provides training to federal, state, and community agencies to implement population-based tobacco control programs and policies. Its efforts range from grassroots messaging to training personnel to evaluating a program's effectiveness.  In one example, TTAC is working with the South Dakota Department of Public Health and nine American Indian tribes to develop tribal policy toolkits to help reduce the influence of tobacco in tribal communities.
Recently, the organization has worked with health departments in Oklahoma, Mississippi, Louisiana, Texas, and Indiana to engage state-wide partners in a unified campaign to reduce tobacco use. In the U.S. Virgin Islands, it gave input on a tobacco control policy that even the tourist-dependent casinos could live with, says TTAC Director Debra Morris.
One common adversary that smoking control programs face is Big Tobacco, which spends more than $8 billion annually to promote its products, especially to young people. TTAC also helps states and communities counter the tobacco industry push with proven policies and programs that we know work, Morris says.
For additional information, see TACenters@emory.edu.
Related Links
"Love, not nags, may help smokers quit, Winship Cancer Institute expert says"
"Pregnant women lighting up less, study says"
"Curbing smoking in China: A global health partnership"
Emory Prevention Research Center (EPRC)
Tobacco Technical Assistance Consortium (TTAC)