'The World is Looking to Us'
President Obama visits CDC, thanks Emory Healthcare team, announces expansion of international Ebola response.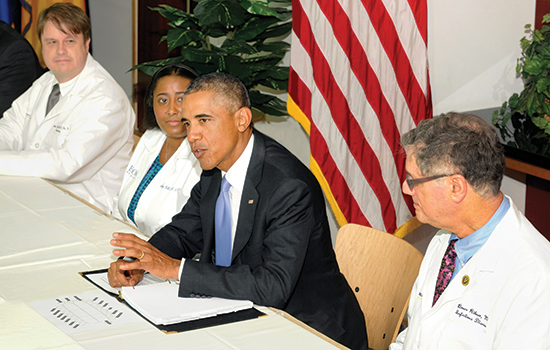 Choosing the CDC's Atlanta headquarters as his backdrop, President Barack Obama announced on Sept. 16 that he would significantly expand US efforts to combat the Ebola outbreak in West Africa, and called on other countries to do the same.
"Faced with this outbreak, the world is looking to us, the United States, and it's a responsibility that we embrace," Obama said.
| | |
| --- | --- |
| | |
| Obama hugs Emory nurse Carolyn Hill. | |
Obama met privately for a roundtable discussion with members of the Emory Healthcare team that provided care to the American aid workers treated for Ebola in Emory Hospital's isolation unit.
 "I have got to commend everybody at Emory University Hospital," Obama said.
"I just had the opportunity to meet with Drs. Gartland and Ribner, members of their team, and the nurses—sorry doctors, but having been in hospitals, I know they are the ones really doing the work. I had a chance to thank them for their extraordinary efforts in helping to provide care for the first Americans who recently contracted the disease in Africa. The first two of those patients [Kent Brantly and Nancy Writebol] were released last month and continue to improve, and it's a reminder for the American people that should any cases appear in the US, we have world-class facilities and professionals ready to respond, and we have effective surveillance mechanisms in place," he continued.
Obama noted that he had met with Kent Brantly that morning in the Oval Office prior to his trip to Atlanta. "We are incredibly grateful to him and his family for the service he has rendered to people who are a lot less lucky than all of us," he said.
"It was an unforgettable experience," said pathologist Charles Hill, a member of the Emory Healthcare team who met with Obama. "Several members of the group were dealing with urgent medical care issues on their cell phones right up until the President entered the room. The President asked questions, mostly regarding what we had learned and what lessons could be applied to the outbreak in Africa. Overall, he spent about 25 minutes with us in discussion."
US Secretary of Health and Human Services Sylvia Burwell and National Security Adviser Susan Rice also spoke with the group.