Nursing school and VA to train nurses for veteran care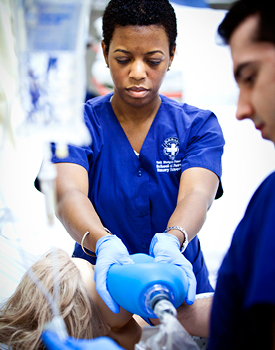 The nursing shortage in the United States is expected to grow to 1 million registered nurses by 2025, and the largest employer of nurses in the country, the U.S. Department of Veterans Affairs, is aiming to stem the tide by trying to interest new nursing students in veteran care.
The Atlanta VA Medical Center (VAMC) is teaming up with Emory's Nell Hodgson Woodruff School of Nursing to train nurses for the specialized field of veteran health care. They recently received a $4 million grant from the U.S. Department of Veterans Affairs to fund 10 additional faculty positions at the nursing school and increase the undergraduate class by 100 students over a five-year period. Students admitted during this partnership will be part of a two-year cohort focused on veteran care and will participate in clinical rotations at the VAMC.
Related Links
"School of Nursing and Atlanta VA Medical Center awarded $4 million to train nurses to care for veterans"