Seeing time on the bedside clock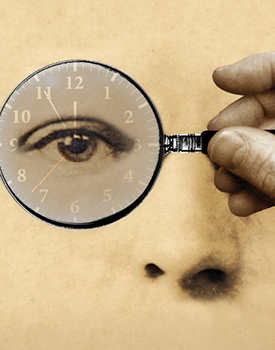 Eleanor Strickland, from Columbus, Georgia, was legally blind from the effects of age-related macular degeneration (AMD). The disorder had affected other members of her family too. "My mother, my grandmother, my brother, and my uncle had macular degeneration. Then it came to me," she says.
Strickland is one of a handful of Emory Eye Center patients who have regained their sight due to a new FDA-approved implantable miniature telescope (IMT).
Before the IMT surgery, there were few options for patients with AMD. The implant is giving patients "the ability to do those everyday things we all take for granted, such as seeing the faces of family members," says Emory cornea surgeon John Kim.
The surgery, covered by Medicare, is for patients with end-stage AMD who are over 75 years of age and have not had cataract surgery in the eye to be implanted. Emory's researchers, who participated in the device's clinical trials, will follow the patients for five years after implantation.
The patients who have received the implantable device so far have differed in what they experience after implantation. Some have had double vision as part of the healing process, "a good thing that lets us know input is truly coming from each eye," says occupational therapist Donna Inkster. In Strickland's case, Inkster already sees encouraging progress: "The good news is that she is seeing the fourth line on the eye chart."
The device adds approximately 3X magnification to all objects while leaving the other eye free to provide peripheral vision. Over time, the two eyes learn to work independently so that one eye can be used for mobility and activities and the telescopic eye for detail. To help patients through the process, "we do a lot of cheering and training," Inkster says.
"Before the surgery, I had only peripheral vision," Strickland says. "I wanted this surgery so I could read and recognize people. I have great faith in it." —Sally Wolff-King
Related Links
"Emory Eye Center offers new device for end-stage macular degeneration"
"New implantable device for treatment of end-stage macular degeneration" (Video)