Four questions project
By Dana Goldman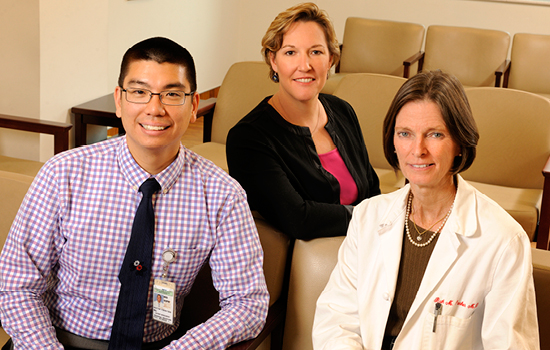 Say a man will be eligible for Medicare in six months and needs a procedure. Should he wait? When can he sign up? Say a woman is a military veteran trying to figure out her health benefits. What do you tell her?
On a recent Friday afternoon, Victor Wu is taking a group through a slideshow of case studies and complicated charts that cover this complex information. No matter that his audience members are highly educated health care faculty, residents, and students from medicine, public health, and allied health. Even this well-informed audience is having trouble navigating the intricacies of the Affordable Care Act (ACA), which mandates health insurance coverage for all Americans beginning in January 2014.
"You could probably boil all the feedback down to—'I absolutely need to know this information, but it's so overwhelming, and how can I learn it?' " says Wu, Emory's chief resident of internal medicine at Grady Memorial Hospital. "My colleagues realize that understanding the new health care mandate is fundamental. But they don't know where to go for reliable information."
Wu was recently in the same position. He was unsure how to talk to his patients at Grady about their health insurance concerns since he wasn't confident in his ability to steer them in the right direction. When patients asked about the kind of plan they should choose, he felt clueless about what to tell them. " 'Go talk to a social worker,' was not a satisfying answer for either one of us," he says.
But after joining an Emory effort to figure out how to educate providers and patients about the ACA, Wu is in a better position to answer questions. He is one of the leaders of an all-volunteer Emory effort, "Let's Ask 4." The project seeks to enable providers and patients to talk together about health care reform through four basic questions: What are my choices for health insurance? How do I get it? How do I use it? What will it cost?
A need to know
"Let's Ask 4" questions about the Affordable Care Act
The 4 Questions project emerged from an ongoing collaboration that is part of the Health Literacy Roundtable at the Institute of Medicine (IOM). Ruth Parker, an Emory professor of medicine and epidemiology, has been a roundtable member since its inception in 2006. In the past two years, she and her IOM colleagues have explored how to make it easier for the public to understand health care reform and implications of the new law.
"When it goes into effect in 2014, the ACA will create a whole new world of health insurance not only for physicians and other health care providers but also for the many Americans who have had little or no access to health insurance for months, years, or longer," says the IOM's Lyla Hernandez. "With the ACA on the horizon, it is essential that both health care providers and potential new insurance enrollees learn as quickly as possible about the new system."
But learning about the new system is easier said than done. "Most people are overwhelmed because by design, health insurance is very complicated," Parker says.
Until now no one group has tried to create a clearinghouse of accurate information and educational materials that could be used by patients and providers. "The natural reaction when you see how complicated all of this is," says Parker, "is to ask: 'Who is going to figure this out? Call me when you do.'"
But Parker, who has long focused on health literacy, is not one to step away from a challenge. She knew that Emory, with a culture of collaboration between disciplines and access to patients, could serve as an ideal living lab for the project. She also knew that time was of the essence, that to accomplish the big goal, the team she was assembling would need to skip the grant-writing phase to apply for funding and plow ahead.
Wu, whom Parker describes as passionate about working to advance improved access to care, volunteered his time for the cause. He and a handful of Emory colleagues began trying to wrap their minds around health insurance and the ACA, all on a volunteer basis between work and school responsibilities, while Parker assembled a national advisory board to vet content.
The job was massive, involving hundreds of hours of culling material from various sources. "Information exists, but it doesn't exist in just one place," says Parker.
One volunteer on the team applied for Medicaid to make sure the group understood that process from the patient perspective. Others worked to understand the complexities of benefits for military veterans. Their goal was to understand the nuances of the health care system as it is now and how it will be beginning in 2014 so that they could explain answers to the four questions to providers and consumers. After initial presentations to providers, they asked for feedback about how clearly the information was conveyed.
Although not everyone on the team agrees with all components of the new law, they do agree that its implications need to be understood and implemented. "This is not a political project," Parker says. "It is about a law that will have tremendous impact on how we practice medicine and what health care and the use of health services look like. So what do we need to know and do?"
Taking it to the street
To include a consumer education component to make the information understandable, graspable, and usable, Wu and Parker enlisted the help of Kara Jacobson, a health literacy researcher and faculty member at Emory's Rollins School of Public Health.
Jacobson's health literacy class took on the consumer piece of the "Let's Ask 4" project. Collaborating with Emory's physician assistant (PA) program, the MPH and PA students created prototypes of consumer guides, with individual groups each tackling one of the four questions. The MPH students then brought those guides to Emory and Grady hospitals and community health facilities to get feedback from patients. Quickly they realized that most patients didn't know about the ACA at all, much less its universal health insurance mandate. They also realized that small changes in wording could make a big difference in helping patients understand the new law.
"We really got down to the nitty-gritty," says MPH student Maureen Clark. "Tell me what this word means to you? If you were to write this, how would you do it?"
Among the findings of Jacobson's class: patients found the phrase, "making this amount of money or less," easier to understand than the phrase, "making no more than this amount of money." Similarly, the phrase, "employer-sponsored health insurance" was confusing to patients while "insurance through your job" made more sense.
"We did a lot of word-smithing," says Jacobson. "Professionals in the health care field come at all of this information from such a different perspective than the person on the street. That's why it's critical that we don't forget about the person on the street."
Moving the country forward
Four short months after their first meeting, Wu and Parker presented their progress to the IOM's Health Literacy Roundtable. The response was positive, including that from Lyla Hernandez. "This project has developed materials that begin to fill the vast health insurance knowledge gap and to facilitate effective communication between providers and consumers," she says. "Such communication is essential to enrolling the millions of Americans who will soon become eligible for health insurance coverage."
The Emory team now is working to finalize a curriculum for providers and a guide for consumers. Team members plan to collaborate with the roundtable to draw attention to the effort from providers. The project contains four components, a short video, four PowerPoint slide sets for providers, a consumer guide, and an IOM discussion paper. The materials are available through the IOM Health Literacy Roundtable to download and use.
Parker is hopeful, albeit realistic, about the project's impact. "This isn't the magic silver bullet, some earth-breaking new endeavor that's going to change our health care system," she says. "But it is providing the tools and education and a baseline language for us to be able to move forward a shared conversation between patients and providers in our country."
While the work continues, the "Let's Ask 4" Project already is beginning to make an impact, starting at Grady. These days, Wu doesn't worry about patients bringing up health insurance.
Armed with answers to the four questions, he brings it up first. EM
---