Stand up!
By Martha McKenzie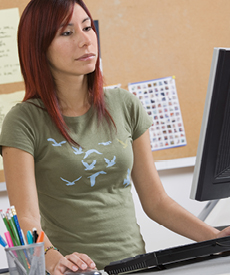 Sitting can be hazardous to your health.
That's right, what you are probably doing now, even as you read this article, may be increasing your risk for developing diseases like cancer.
Between working at a desk, watching TV, and driving, the average American spends more than eight hours a day sitting.
Alpa Patel, who has an MPH from Emory and is the strategic director of the Cancer Prevention Study (CPS)-3 for the American Cancer Society, has focused her research on the role of physical activity in cancer prevention and obesity as a risk factor for cancer.
Studies have found that people who sit a lot, particularly women, tend to die earlier. Women who sat for more than six hours a day were 37 percent more likely to die during the 13 years of the study than those who sat for less than three hours a day. Men who sat more than six hours a day were 18 percent more likely to die than those who sat less than three hours. Researchers estimate that two years of life can be gained by reducing sitting to less than three hours a day.
Surprisingly, this level of risk applied even to people who regularly went to the gym but sat at desk jobs the rest of the day—a group Patel calls "active couch potatoes."
Related Resources
"Standing up for health" (4/29/2015)
"More employees trading chairs for fit-friendly desks" (7/29/2013)