Ebola Survivor Nancy Writebol: Giving back and looking forward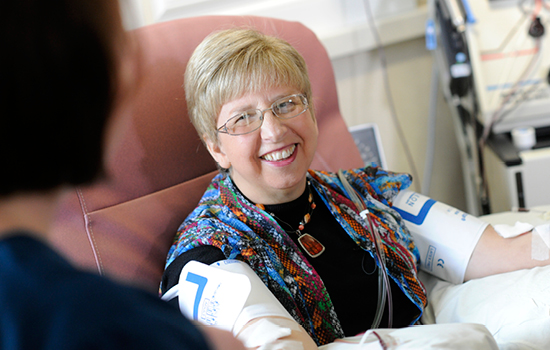 With a television crew following them, Nancy and David Writebol returned to Emory University Hospital on Feb. 3, holding hands and chatting with the staff about a new grandchild who was expected to be making his arrival later that day.
Writebol, a missionary who contracted Ebola while working at a Liberian hospital for SIM, has gotten used to a certain degree of celebrity after becoming the second patient to be treated for Ebola in the U.S. "We look at it as an opportunity to raise the level of awareness about this terrible disease," she says.
After spending 17 days in Emory Hospital's special isolation unit in August, Writebol was found virus-free and was discharged. She left the hospital quietly, with family, to continue her recuperation. After growing stronger, she has given multiple interviews and returned several times to Emory to donate plasma. "I am thrilled to be able to help others who might contract Ebola," she says. "And it makes it special to be here at Emory and to catch up with the doctors and nurses who became like family to me."
Emory Healthcare is collecting plasma from Writebol and the small group of other American Ebola survivors, banking it for the possible needs of future Ebola patients.
David Writebol, who was doing mission work with his wife in Liberia but did not contract Ebola, is taking part in an Ebola vaccine trial at Emory's Hope Clinic. He had his blood drawn right after Nancy's plasma donation. "They are measuring the progress of the antibodies," he says. "We are happy to give back and to share our joy and hope."
Video Extra


Ebola survivor Nancy Writebol recently returned to Emory University Hospital with her husband David, this time to donate her plasma.
Other Ebola Stories in This Issue:
"Banking Plasma from Ebola Survivors"
"Ebola Fighters: Ribner among those honored as TIME's Person of the Year"
"The Long, Extraordinary Recovery of Ian Crozier"
Related Resources: