Field Clinics
By Sofia Kouninis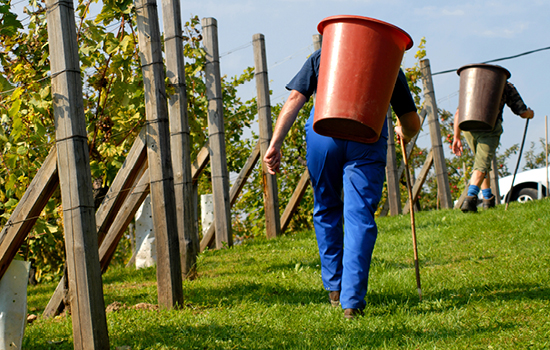 The older migrant worker came to the mobile clinic complaining of chest pain.
An Emory physician assistant (PA) student did a cardiac workup and screened for heart disease and blood pressure complications, but all tests came up negative. Then a physical therapy (PT) student asked the man what specific work he did. "I pick grapes," he replied. The PT student told him, "You just need to switch sides, you have stretched your pectoral muscles."
The annual South Georgia Farmworker Health Project clinics have broadened their scope and effectiveness by using teams of students and faculty from different School of Medicine programs—PA, PT, and MD, says Erin Lepp, director of community projects at Emory's PA Program. Starting in 1996 with eight students, three faculty, and one physician under founder and PA alumnus Tom Himelick, the farmworker clinics have evolved into a service-learning project that includes more than 200 students, faculty members, and community volunteers. "We had this simple idea to try working truly collaboratively this year instead of in parallel," says PT Assistant Professor Sara Pullen, "and the student feedback was overwhelmingly positive."
While fruit and vegetable cultivation in Georgia brings more than a billion dollars a year into the state, pickers remain low paid, living largely in makeshift camps or seasonal housing with little access to health care. The clinic teams have treated people who have never seen a doctor before, women in labor, and workers with acute illnesses and chronic conditions. Sick patients can be transferred to emergency care, or follow-up appointments can be scheduled through community partners such as the state's Farmworker Health Program. "What we're doing is bringing the whole team to them," Pullen says.
Rotating morning and afternoon clinics provide free care to 1,200 to 1,600 farmworkers and their families during 12 days in June and to an additional 300 seasonal workers over an October weekend. South Georgia locations include Valdosta and Bainbridge. Emory's nursing school runs a similar clinic in Moultrie for farmworkers and their families.
Related Resources:
"Karen Newell: Bridging the worlds of medicine, music" (Emory News Center, 5/15/14)
"Caring for farmworkers inspires students" (Emory News Center, 10/22/13)