Slush Fund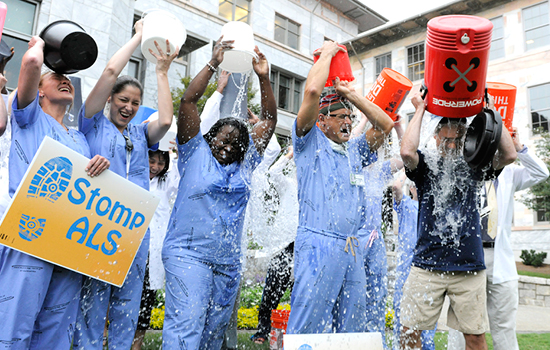 The Ice Bucket Challenge raised $115 million for the ALS Association.
Jonathan Glass, who directs the Emory ALS Center, is one of the US investigators for Project MinE, an international genetic research program that will receive $1 million in challenge funds. "In terms of a campaign, it was just extraordinary. We have money; we have awareness," says Glass, who performed the challenge with his team. "Even my mother did it—and she's 87 years old." MinE will map the DNA of 15,000 people with ALS and compare these profiles with the profiles of 7,500 control subjects to identify genes that may influence whether and when someone will get ALS, how quickly it manifests, and how the disease affects the body.  
Video Extra


Members of the Emory ALS team, along with many colleagues from across the Emory University School of Medicine, took on the ALS ice bucket challenge.
Related Resources:
"Emory ALS researchers to receive funds from ice bucket challenge" (Emory News Center, 10/13/14)
"Emory ALS team takes ice bucket challenge" (Emory News Center, 8/21/14)