News and views
And the Band Plays On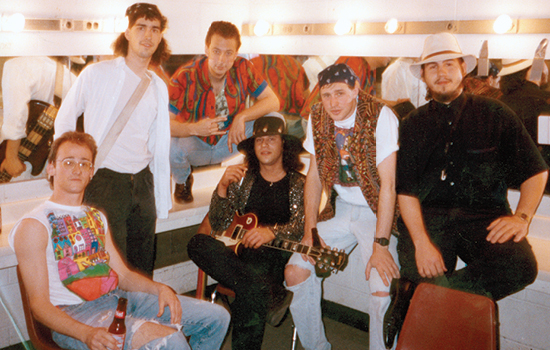 And the Band Plays On
There were no hold-outs for the Several Dudes band reunion gig. In fact, all the Dudes—now living in Colorado, New Jersey, North Carolina, Florida, the Georgia Coast, Arizona, and Atlanta—seemed happy to be able to get together again. "The response rate was 100 percent," says Jonas Goldstein 91M, lead singer and rhythm and lead guitar, who practices neurointerventional surgery and neuroradiology in Asheville.
Goldstein and Victor Rosenfeld 93M, a neurologist in Savannah who played percussion, were medical students at Emory when they got involved in Several Dudes, which also included Emory law students Nick Stevens and Kevin Green, undergraduates Devon Engel and Dave Pretlow, and local musicians Barry Richman, Nick Longo, and Pat Winger. Meryl Goldstein 91M (née Tillotson) recorded vocals and flute on several songs. They played more than 100 shows, including the SOM Cadaver Ball and senior banquet, produced and released four albums of original material, and were billed as "Emory University's most popular band," in the 1980s and 90s. They opened for several area bands including the Swimming Pool Q's, the Producers, and Colonel Bruce Hampton and the Aquarium Rescue Unit. Creative Loafing said they played "good-time boogie woogie music for the masses."
The band went into "suspended animation" after graduation. "It is now 25 years later, and we are having a Re-Animation double album re-release," Goldstein says. "We've bought old analog equipment and digitized the tracks and remixed and remastered."
They are planning a concert/benefit in Little 5 Points on May 9, "ReAnimation I," to support Georgia Lawyers for the Arts, helping to provide resources for legal services for Atlanta musicians and artists.