Into the Fire
Why I volunteered for the Ebola vaccine trial
By Quinn Eastman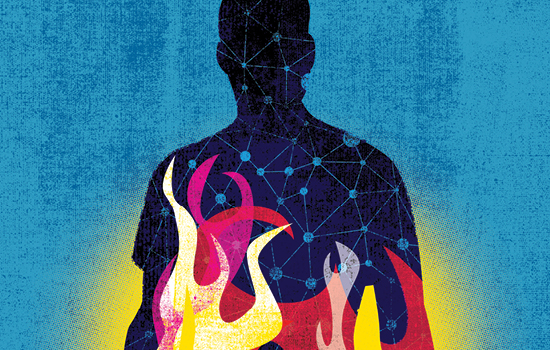 Before coming to work at Emory, I was a newspaper reporter in Southern California. My time there was bookended by two episodes of huge wildfires, one in 2003 and one in 2007.
Although I started work at the North County Times after the 2003 Cedar and Paradise fires, a large part of my writing concerned San Diego County's recovery from and response to these disasters, which destroyed thousands of homes and killed 17 people.
But by the time the 2007 wildfires came, I had already given notice. My wife and I had started to pack for our upcoming move to Atlanta. Our apartment came through unscathed, but we stayed with a friend near the beach for a night just in case.
Later, while I was driving from California to Georgia, an editor called me on my cell phone and asked me to come back and work on a freelance basis. I will always regret not turning the car around. [My wife was still in California finishing a work project.] It's partly for the selfish reason of having missed out on "the action" but also having abandoned the team and community I was part of.
That feeling of regret is what drove me to volunteer for a clinical trial testing an experimental vaccine against Ebola.
I don't want to compare the Ebola outbreak and California's wildfires too closely. They're different in scale and lives lost, certainly. But reading news about the Ebola outbreak made me feel the same way I did when we watched the sky above our apartment slowly fill with smoke. I could think, "Not my problem anymore," and drive away, or I could get involved somehow.
Many people in the Emory/CDC community are more directly engaged in learning about and fighting the Ebola outbreak. I don't have training that would make me especially useful in West Africa, but I can offer up my shoulder for a shot.
Working in California, I met people whose family members had died trapped in cars overrun by flames. I talked with veteran firefighters and ranchers whose properties had been covered in ash. I heard some harrowing stories, but the smell of smoke was gone by the time I arrived. My articles covered more prosaic questions, such as insurance reforms, building permits, and taxes to support more firefighters.
Similarly, the hard work of figuring out how to fight Ebola has just begun. The study Emory is participating in will inform how vaccines will be deployed against the virus in Africa. The vaccine I was given is also being tested at the National Institutes of Health and the University of Maryland. I and the other volunteers received our shots at Emory Vaccine Center's Hope Clinic. Director Mark Mulligan is overseeing the Hope Clinic's part of the study, which is expected to enroll around 100 people.
The GlaxoSmithKline/NIH vaccine consists of the shell of a chimpanzee cold virus, with the external protein from the Ebola virus glued on. It has already been tested extensively in monkeys. I tell friends who look alarmed that "it's really more a vehicle than a virus," since it can't replicate or cause infection.
I received my shot one morning in November. Then all I had to do was come back regularly to provide a few vials of blood; I won't come anywhere near the live virus.
The information gained about the vaccine's safety and whether immune responses are long lasting is expected to be important as the vaccine moves into frontline testing in Africa early in 2015.
This time instead of driving away, I'm sticking around.
Other Ebola Stories in This Issue:
"Banking Plasma from Ebola Survivors"
"Ebola Fighters: Ribner among those honored as TIME's Person of the Year"

"Ebola Survivor Nancy Writebol: Giving Back and looking forward"
"The Long, Extraordinary Recovery of Ian Crozier"