The Last Word: Worth the Price?
The high cost of cancer drugs and other medications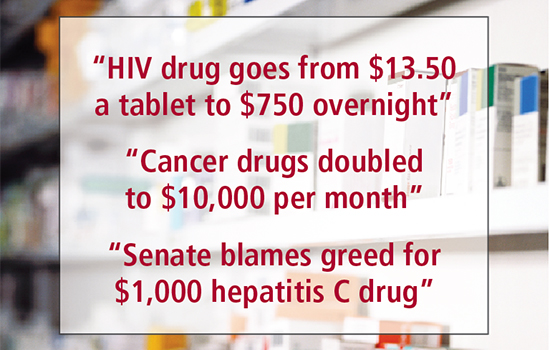 Recent headlines like these have stirred debate over rising drug prices. But none of them tell us about a drug's real value. Does the drug cure a deadly disease or just add a few weeks to a patient's life? Does it work for all patients or just for some? These are important—but frequently overlooked—questions when considering the value of a new drug and whether its price is justified.—Daniel Goldstein, The Washington Post, "Wonkblog."
I'm a medical oncologist, and I prescribe chemotherapy and other anti-cancer drugs to my patients. 
I want to bring the best possible medical treatments to them, but I also consider other factors that will impact their lives, the lives of their families, and society as a whole. That's why I'm interested in the cost of prescription drugs.
In the United States, the FDA approves drugs purely based on efficacy and safety, without a mandate to evaluate cost or value. Current legislation does not allow Medicare to negotiate the price of a drug—a price that is set by the manufacturer.
Among other things, this has led to escalating cancer drug prices. Most new cancer drugs now cost $10,000 to $15,000 per month.
The drug prices aren't linked to the benefit they provide. Some drugs are truly game-changing innovations. Imatinib, for example, has converted chronic myelogenous leukemia from a rapidly fatal disease into a chronic disease that some consider close to being cured.
Other drugs, such as regorafenib, extend the life of a patient with metastatic colorectal cancer by about six weeks and do not offer the possibility of a cure to anyone.
But why do I care about drug prices, as a physician?
Surely my responsibility is just to give the best possible care to my patients, regardless of cost, right?
We are all paying for these high drug prices.
Your taxes are paying for patients with Medicare and Medicaid.
High drug prices can drive up the cost of private insurance expenses, which are often taken directly by your employer from your pay.
Deductibles and co-pays are increasing rapidly, due to increasing health care costs.
Recent data has clearly demonstrated that having cancer is a risk factor for personal bankruptcy.
With the median U.S. household income at $50,000 per year, these escalating prices are unaffordable to most.
What is the solution?
We can't simply demand lower prices, as this may stunt future research and development. We need to continue to provide financial incentives to develop game-changing innovations.
We should be paying for the benefit that a drug provides.
Paying a high price for drugs that are less toxic and very effective may be appropriate, but drugs that produce only slight improvement with significant toxicity do not warrant similar pricing.
Prior to FDA approval, an economic analysis should be performed for all drugs to establish a value-based price.
This will stimulate the development of game-changing drugs while halting the development of drugs with minimal benefit.
We desperately need legislation to move this strategy forward—it will not only help to contain health care costs, it will also provide incentives to develop better treatments and cures for our patients.