Hawks Nest
Atlanta Hawks and Emory Healthcare are partnering on a training and sports medicine center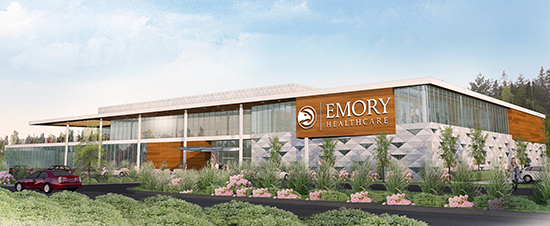 Emory Healthcare and the Atlanta Hawks plan to build a training and sports medicine center on Executive Park Drive in Brookhaven, which also will serve as the team's official headquarters and practice site. The team expects to break ground this summer on the 90,000-square-foot, privately funded facility.
It will be the first training facility in the NBA to be co-located with a sports medicine center, allowing for expert and immediate treatment and access to equipment such as the 3 Tesla MRI scanner, which provides diagnoses for soft tissue and bone bruise injuries.
Emory will become the official sports medicine provider of the team, offering preventive and rehabilitative treatment and sports performance training. Physicians from Emory's current Sports Medicine Center will relocate to Brookhaven, where they will see and treat patients.
"Emory Healthcare has built outstanding orthopaedics services over the past decade, and we are excited to continue to grow this area," says Jon Lewin, president, CEO, and board chair of Emory Healthcare. "Delivering on-site care will enable us to provide faster care to Hawks players and will enhance our ability to conduct sports performance research and translate what we learn to all athletes, both professional and recreational."