News and views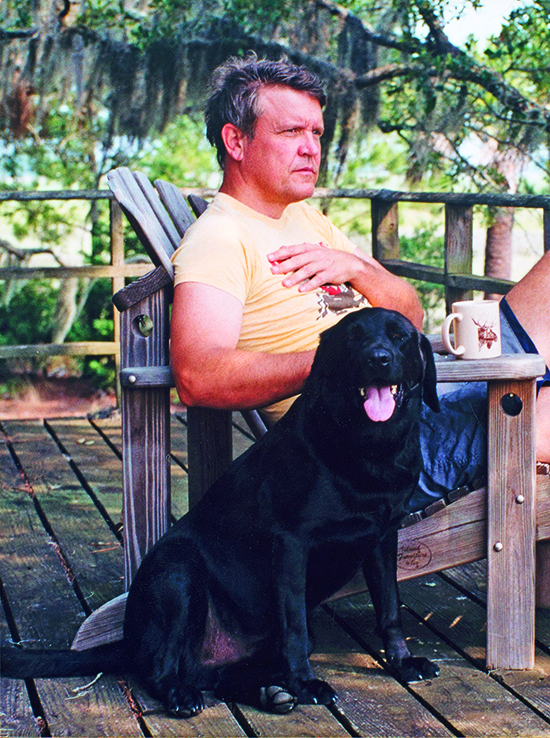 Plastic surgeon and artist
Richard "Duke" Hagerty 84MR
and Otis.

The Logic of the Dream
Plastic surgeon and artist Richard "Duke" Hagerty paints his dreams. And what wondrous visions they are.
Plastic surgeon and artist Richard "Duke" Hagerty paints his dreams. And what wondrous visions they are.
"Surrealism collapses the laws of space and time, permits all synchronicities and juxtapositions, and nurtures the logic of the dream," he says in the essay that opens his coffee table art book, American Surrealist. "The style of surrealism is a visual language that allows me—a Southerner by birth who is also formally trained in the rigors and disciplines of science—to explore and express my obsessions with deep history, fascination with myth and symbol, and inexhaustible curiousity about color and form."
Hagerty, who spent his undergraduate years at Johns Hopkins, began painting after he entered Duke University Medical School in 1973, when a professor interested in Jungian analysis suggested that he sketch his dreams during his psychiatric rotation.
"We were supposed to write out our dreams, but I was dyslexic as a child and I'm still not good with words, so he says, very casually, 'Why not draw your dreams?' Right when I did that first one, it was—bang. That was the something special that I was meant to do."
When he moved to Atlanta in 1977 with his wife, Barbara, to complete his residency at Grady, he kept painting and sketching, developing his style and technique.
He then moved back to Charleston, S.C., where he and his family still live, joining his father's practice and serving as head of the Plastic Surgery Division at the Medical University of South Carolina for close to a decade. All the while, he continued to develop his art, soon transitioning to oil painting on canvas.
Hagerty incorporates Western and Eastern mythology and religion into his works, as well as cultural symbols from around the globe. He has traveled to more than 45 countries as both a tourist and volunteer surgeon.
"Richard Hagerty is a polymath," says art historian Roberta Sokolitz. "He paints as a means of understanding the world and his place in it. The imagery that comes out of his mind is surreal, vast, multicultural, and blended."
While it was challenging to find time to create art, with family demands as well as his medical career, Hagerty says his wife fully supported his talent.
"Barbara knew it was important. She encouraged that side of me completely. She's my muse, a fighter and a strong person in her own right," he says. "She's a poet, so she's very empathetic. This wouldn't have happened without her. We had two kids in the middle of my Emory surgical residency, and many a night I had one hand on a pacifier and the other hand painting."
Hagerty had his first one-man show at a gallery in Atlanta. And he's been painting, sketching, and creating since, from depictions of Greek mythology to lush jungle scenes to abstract renderings to detailed depictions of animals and insects.
Medicine and art, he says, are complimentary, since they both require problem-solving, hand-eye coordination, and a sense of aesthetics—especially plastic surgery, his specialty. "It encourages more innovative approaches," he says.
Hagerty discusses this and other themes that weave throughout his life and art with magazine writer, former patient, and friend Gary Smith, who in the book's beginning pages records two of their wide-ranging conversations on family, philosophy, spirituality, motivation, and passion.
At one point, Smith asks Hagerty if there's been a trade-off in his life—considering his battles with dyslexia, bouts of depression, and the long hours and sometimes sleepless nights that came from carving out hard-won space for his creative self in the midst of his demanding career.
 "I don't need to be comfortable," Hagerty answers. "I want to be alive."—Mary Loftus
---

Where in the world are you?
From Eritrea to Naivasha
Jenna Thomason 12M/MPH (above) was so moved by one of her patients from Eritrea, in East Africa, that she wrote a poem inspired by her, "Faraway Empress," which was published in the Annals of Internal Medicine in October 2014. One stanza reads:
"...Your silence is haunting
nothing disrupts your downward icteric stare
your abdication came before we met
your throne reduced to an exam room chair..."
The woman was among the many patients Thomason treated during her residency in internal medicine at the University of Washington in Seattle. In July, Thomason began a rheumatology fellowship at Harborview Medical Center, the county hospital managed by UW Medicine. Patients include refugees and immigrants from all over the globe, including Kenya, where she spent a month of her residency at Naivasha District Hospital. "My time in Kenya allowed me to immerse myself in another culture and understand another way of life so that I can better care for these patients," Thomason says. "Here in the states, we often gripe about the overspending and the folks who fall through the cracks, but in Kenya, I saw people die while they waited for their families to come up with the money to pay for their care up front."—Pam Auchmutey

Are you doing interesting work in, say, rural Kentucky, New York City, Jakarta, or Taipei? Let us know where you are and what you're doing with a quick email (and photo!) to the editor: mary.loftus@emory.edu.