Caring for President Carter
New and noteworthy
By Mary Loftus, Photos by Jack Kearse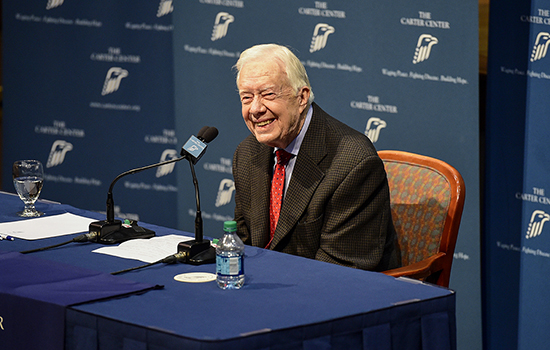 When former President and Nobel Peace Prize winner Jimmy Carter was in Guyana monitoring an election in May, he couldn't shake a bad cold.
So, on his return to Atlanta, he checked in with his Emory doctors, who did a complete physical exam.
An MRI and subsequent PET scan showed a growth on his liver that was found to be malignant. It was removed during an August surgery and measured 2.5 cubic centimeters. Doctors removed about one-tenth of Carter's liver, biopsied the tumor, and diagnosed melanoma. They also found four small spots of melanoma on his brain.
Carter, who turned 91 in October, announced that he would be receiving radiation and pembrolizumab, a drug that enhances the activity of the immune system.
| | |
| --- | --- |
| Walter Curran of Emory's Winship Cancer Institute, one of Carter's doctors, answers questions from CNN medical correspondent and Emory neurosurgeon Sanjay Gupta about Carter's treatment. | |
His Emory medical team included Juan Sarmiento, who operated on his liver, David Lawson, a melanoma specialist, and Walter Curran, director of Emory's Winship Cancer Institute and a specialist on radiation treatments.
The Carter Center and President Carter himself have close ties with Emory, where Carter is a University Distinguished Professor.
"I never doubted that I would carry out the recommendations of Emory doctors," Carter said at a press conference at the Carter Center on August 20, announcing his illness. "The three doctors have worked in close harmony with me. I have complete confidence in them."
Carter is remaining active, building a Habitat for Humanity house and showing up at a Braves game with his wife, Rosalynn. (The couple, who have been married for 69 years, were caught on the "kiss cam.")
Carter's father, only brother, and both sisters died of pancreatic cancer—an extremely high incidence in one family—but his melanoma seems unrelated and has not shown up on his pancreas.
When asked about unfinished work, Carter said he would like to see peace between Israel and its neighbors, and the last Guinea worm eradicated—a major Carter Center initiative. But, he said, he would back away from his work in global health and social justice to give his medical regimen priority.
"I'm an acquiescent and cooperating patient," he said. "Within the bounds of my own judgment, I'll do what the doctors recommend for me to extend my life as much as possible."
Video
Former U.S. President Jimmy Carter reflected on his life's work during a press conference on Aug. 20, 2015, in which he revealed that cancer had spread to his brain.
Related Links
"Former President Jimmy Carter discusses cancer diagnosis and treatment" (8/21/2015)