Pushing stroke care forward
By Elizabeth Johnson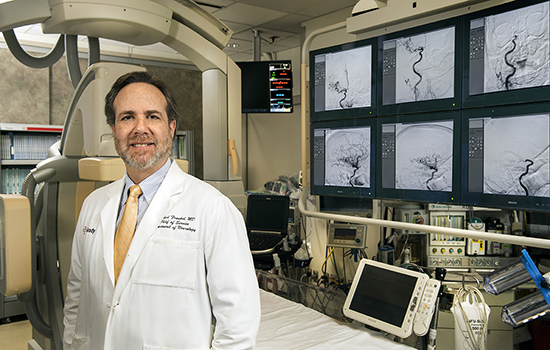 In 2014, Emory neurologist Michael Frankel was in the middle of clinical trials to prove the benefits of using a new thrombectomy procedure—a catheter-based approach to directly remove blood clots using stent-retriever technology—when he received some bad news.
Major insurance provider Blue Cross Blue Shield (BCBS) had decided it would no longer pay for the procedure.
But Frankel, director of the Marcus Stroke and Neuroscience Center at Grady Memorial Hospital, was confident that the procedure would improve outcomes for stroke patients. Within weeks of the BCBS decision, the data generated by Frankel and his Grady team demonstrated conclusively this approach's ability to save lives and improve outcomes for stroke patients. In 2015, BCBS reversed its decision, largely because of the results that came from the clinical trials at Grady and other international sites. Today, Frankel's team has a 93 percent success rate re-establishing cerebral blood flow using the thrombectomy procedure they pioneered.
This is the second major medical breakthrough to come from Emory's team at Grady. In 1995, Frankel's group proved the benefit of using intravenous tPA, a clot-busting medicine, in the treatment of stroke patients. "It's rare for a hospital to play a key role in one innovation of this magnitude, let alone two within two decades," says Frankel.
Emory's stroke team physicians provide care at two Joint Commission-certified Advanced Comprehensive Stroke Centers (Grady and Emory University Hospital) and three certified Primary Stroke Centers (Emory Midtown, Emory Saint Joseph's, Emory John's Creek). Emory is one of 25 regional coordinating centers in the country for the newly established National Institutes of Health StrokeNet.
Related Links
"Emory neurology faculty again prove worldwide leadership in stroke treatment" (12/2/2015)