You be the doctor
Correcting a "Fatal" Misdiagnosis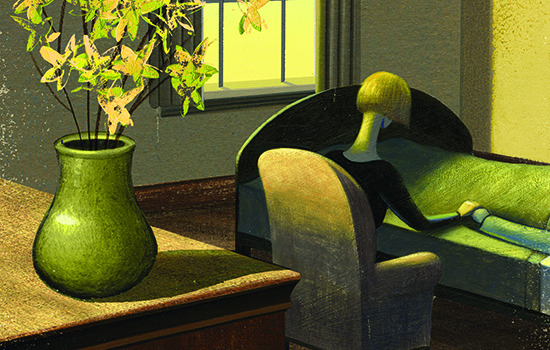 A 52-year-old woman's case came to the attention of Emory's Special Diagnostic Services clinic.  
An avid gardener, the woman had become so easily winded that she wasn't able to work in the yard. She had been diagnosed by her doctors in the Midwest, where she lived with her husband, to have a rare and incurable malignancy associated with her heart —a cardiac leiomyosarcoma.
A soft tissue cancer, leiomyosarcoma is unpredictable and can occur in smooth muscle cells anywhere in the body. It tends to be resistant to chemotherapy and radiation, and can lie dormant for years only to recur. The woman's doctor told her there was nothing more he could do.
She told family and friends that she had terminal cancer and returned to her hometown of Augusta, Georgia, where her mother and siblings live, so they could help care for her. She began planning her own funeral.
Her sister, a research nurse, knew that Winship Cancer Institute had specialists in sarcoma and reached out to some of her Emory Healthcare contacts.
They referred her to the new Special Diagnostic clinic, directed by Clyde Partin, an internist at Emory Clinic and an associate professor of medicine.
"The intent of our clinic is to see patients with conditions that have been undiagnosed or misdiagnosed," Partin says. "We do look for unusual and uncommon diseases but are more likely to find typical diseases presenting in an atypical fashion." For patients with a slew of seemingly unrelated symptoms, this means searching for a "unifying diagnosis."
In this particular patient, clinic physicians discovered not cardiac leiomyosarcoma but several other conditions interacting to mimic cancer.
Any guess as to what these ailments were?
"The outside imaging studies had been reviewed the day before she was seen, so our physicians were pleased to let the patient know at the beginning of her visit that we did not think she was harboring a cancer," Partin says.
Physician Jon Masor, who supervised and coordinated the patient's care, had reviewed her echocardiogram and CT images with colleagues and confirmed that she did not have a malignancy. Instead, she had a diaphragmatic hernia and an unusual type of aortic root aneurysm, associated with a patent foramen ovale (PFO), a hole between the left and right atria of the heart. These two potentially serious but treatable conditions are rarely seen together. (A PFO exists in everyone's heart in utero but usually closes shortly after birth.)
How was her condition misdiagnosed? "The appearance on the CT scan looked like a mass that was read as malignant, but it was really her stomach and other abdominal organs migrating upward through the ruptured diaphragm," Partin says.
The patient had two operations to fix her gastrointestinal and cardiac problems and made a quick recovery. She's back to doing things she enjoys and says she feels better than she has in a decade.
"This was a case of a difficult diagnostic dilemma being solved quickly and having the process work as well as could possibly be imagined," Partin says.