Gifts of note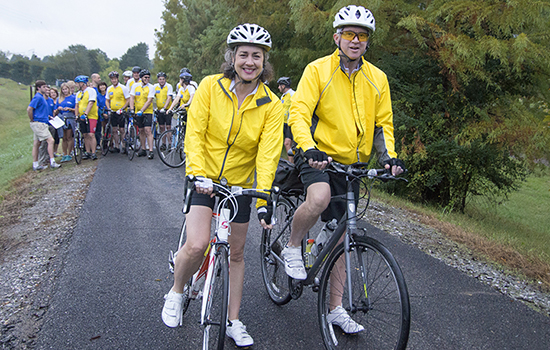 Impressed by his care at Emory, Hayes Swann pedaled nearly 100 miles, which included the Silver Comet Trail, to raise more than $320,000 to support Parkinson's research at Emory and the recreation therapy program at the Shepherd Center. Swann's group of 19 cyclists biked 95 miles from Anniston, Ala., to Atlanta, and chronicled their mission and experience at p2epp.com. "The response has been beyond description for me and the blessings too many to count," says Swann, who attracted corporate sponsors to his quest. "It is nothing short of a miracle. I am truly blessed to have so many colleagues and friends, as well as friends of friends, willing to be a part of this."
---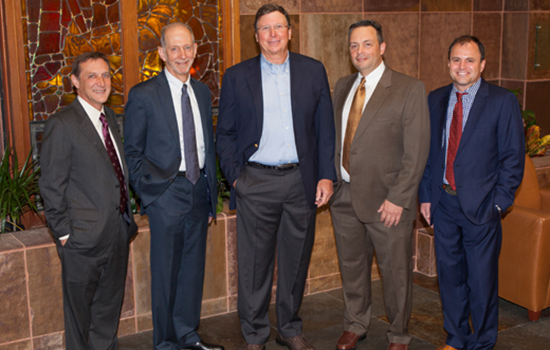 The James M. Cox Foundation made a $25 million gift to launch new patient-centered care models at Emory designed to improve patient experiences and outcome, with an initial focus on prostate cancer care. The five-year initiative accelerates efforts already under way within Emory Medicine to create more streamlined and reliable care for patients and families. "We want it to be easier and less stressful for patients and their families whenever they face serious health issues," says Jim Kennedy, chair of Cox Enterprises, who has battled prostate cancer and believes Emory can serve as a national model for improved health care delivery. The gift creates two endowed chairs affiliated with the Winship Cancer Institute to allow Emory Medicine physician leaders to focus on change initiatives and research to improve patient care. John Pattaras, associate professor of urology, and Peter Rossi, associate professor of radiation oncology, who both specialize in prostate cancer, will help lead the new initiative.
---
A Florida community bank gave $100,000 to support the development of new treatments for brain diseases and conditions like epilepsy, Parkinson¹s, depression, and more at the Emory Neuromodulation and Technology Innovation Center (ENTICe). Axiom Bank CEO Angelo Palombi voiced hope that the donation will enable Emory School of Medicine to "continue to expand its program and develop new and exciting treatments for neurological diseases." Recent research by ENTICe has led to patient-specific therapies through a computational framework that allows for better predictability of a seizure and ultimately will help a neurostimulation device deliver the appropriate stimulation as early as possible to prevent seizure. ENTICe is led by co-founder Robert Gross, professor of neurosurgery, neurology, biomedical engineering, and neuroscience.
---
Research into the genetics of hypersomnia received significant seed funding from Andrew and Diane Powell, Betsy Ashcraft and Lawrence Tu, and other donors. Their early commitments are attracting other gifts to support the research of David Rye, professor of neurology and director of research for Emory's program in sleep medicine. By sequencing DNA samples, Rye and his team aim to better understand the mechanism of hypersomnia and allow for better diagnosis and patient care. Rye is an internationally recognized expert in narcolepsy and related disorders of excessive daytime sleepiness and movement disorders in sleep.
---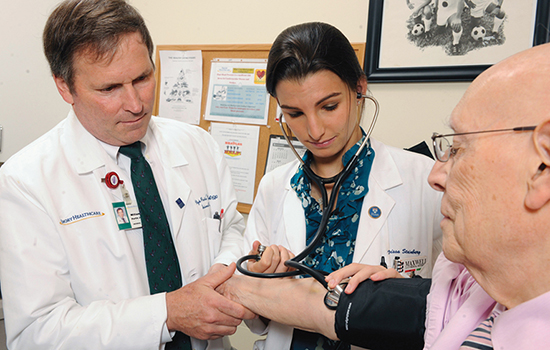 Personal medical history and the history of medicine influenced Gary and Joella Kerber's gift in support of W. Clyde Partin Jr. For four decades, the Kerbers have received medical care from Emory, and Partin stepped in when their primary physician, Donald Davis 76M, retired. The gift benefits Partin's work as medical director of Emory Special Diagnostic Services, which is dedicated to evaluating patients with significant undiagnosed symptoms despite prior medical evaluation, and as course director of the annual J. Willis Hurst History of Medicine Symposium. The 2015 symposium focused on how the study of past epidemics helps health care professionals respond well today and in the future. "Dr. Partin has inspired a donation to Emory focused on his groundbreaking work," Gary Kerber said. "It will be educational and rewarding to follow Dr. Partin's success in the coming years, and play a small part by contributing to funding it."
---
David Halpern established the Halpern Family Nursing Education Scholarship in Brain Health to recognize the vital role of nurses and support their work to improve the quality of life for patients and families who are suffering with diseases of the brain. The scholarship provides financial support for the professional development activities of at least two deserving Emory Brain Health Center nurses each year, and the recipients may use the funds to attend national conferences, prepare for nurse practitioner certification, complete master's degrees in nursing, and participate in certification programs and related activities.


---
Two major entryways at Emory Saint Joseph's Hospital will provide a fresh welcome to patients, thanks to a $500,000 gift from the Emory Saint Joseph's Hospital Auxiliary. The donation will fund renovation of the main lobby as well as the lobby of the hospital's new Orthopaedic and Spine Pavilion. The lobbies are where auxiliary members often provide warm welcomes to patients and families, one of the ways they have logged more than one million volunteer hours since the auxiliary's founding in 1951. The recent gift brings total auxiliary donations to more than $6 million. More than 400 volunteers belong to the auxiliary, and last year they performed more than 59,000 hours of service.
To volunteer for the Emory Saint Joseph's Auxiliary, call 678.843.7292.
---
To learn how you can make a major gift to the health sciences at Emory, call 404.712.4483. To make a gift online, please visit emory.edu/give.