Detecting Concussions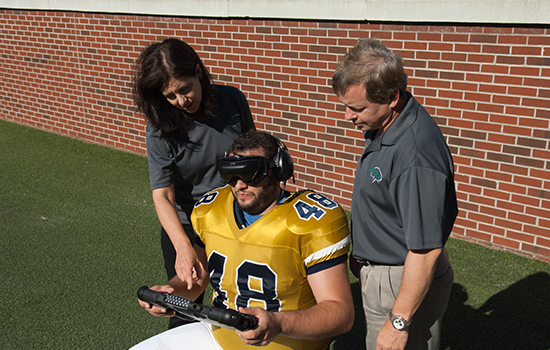 At last year's spring Atlanta Science Festival, emergency medicine physician David Wright was asked to speak about the evolving science of sports safety.
"We now know that concussions are not something to just shake off, that there are significant short- and long-term consequences, and that youth athletes are at the highest risk and have the most to lose from repetitive injury," Wright said. "It's time to create a culture of safety by carefully examining activities that put kids at risk, acknowledging when an injury occurs, and improving rules and coaching techniques as well as technologies that makes the game safer. We must also keep kids from returning to the game too early after injuries."
Wright, associate professor of emergency medicine at Emory, and an expert on sports concussions, traumatic brain injury, and stroke, works closely with an elite team of engineers through the Coulter Biomedical Engineering Department at Georgia Tech and Emory.
He co-developed iDETECT, a portable screening system for sideline evaluation of concussion injuries, with Michelle LaPlaca, associate professor of biomedical engineering at Georgia Tech. The technology won the GE NFL's Head Health Challenge II for new innovations in 2014 and is now being used by the military to study concussion in combatants and paratroopers.
"The device is incredibly novel," Wright says, "leveraging an immersive heads-up display with noise reduction headphones and virtual reality to interrogate brain function in real time in austere environments."  
The iDETECT technology allows testing of multiple domains known to be impaired after a concussion, such as cognition (memory and executive function), reaction time, balance, and oculomotor function. The test can be completed in about 15 minutes and does not require a trained examiner.
"Mild traumatic brain injuries in youth, college, and professional sports have the potential for life-changing, long-term consequences," says Wright. "The iDETECT system integrates multiple concussion testing capabilities within one platform and allows rapid and reliable assessment at the location where the injury occurred."
An estimated 1.6 to 3.8 million sports- and recreation-related concussions occur each year in the United States. Repetitive concussions, Wright says, are suspected to be linked to long-term disorders like depression and early dementia (such as chronic traumatic encephalopathy). In the last decade, emergency department visits for mild traumatic brain injury among vulnerable populations like children and developing youth have increased by more than 60%.
Related Link
"Emory-Georgia Tech team wins NFL Head Health Challenge II for iDETECT brain injury detection" (11/13/2014)