A Conversation with Emory Hope Clinic interim director Nadine Rouphael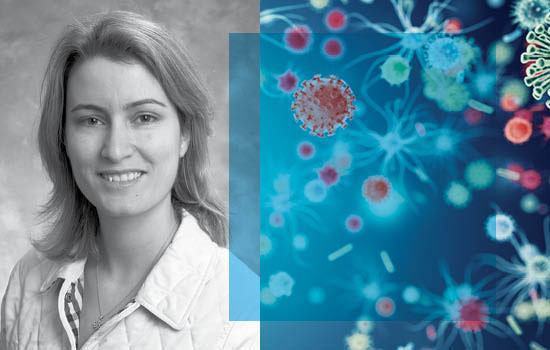 Flu. Tuberculosis. Aids. Malaria. Zika. Anti-microbial-resistant pathogens.
These are among the most immediate priorities in vaccinology efforts, says Associate Professor of Medicine Nadine Rouphael, an infectious disease doctor and interim director of the Hope Clinic of the Emory Vaccine Center. TB infects one-third of the globe's population and is the primary killer of people with HIV.
Rouphael: "Bacille Calmette Guerin vaccine prevents 120,000 childhood deaths each year by preventing severe forms of tuberculosis. However, a better TB vaccine is urgently needed. A deeper understanding of the immunologic mechanisms behind natural infection and the correlates of risks and improvement in animal predictive models are essential to be tested in clinical trials.
Likewise, half the world's population—3.2 billion people—live at risk of malaria transmission, and estimates range from 430,000 to 700,000 deaths due to malaria annually. It affects children and pregnant women most significantly.
Rouphael: "A vaccine (RTS,S/AS01) has shown protection against malaria in children in a phase 3 trial—although this protection is partial, wanes over time, and depends on the age of the child. However, this is definitely a step toward having an effective vaccine against malaria."
Fighting Flu

Each year, seasonal influenza epidemics race around the globe, and the 2017-2018 flu season hit the U.S. especially hard, causing deaths even in healthy young people. Paticularly at risk from the flu are pregnant women; young children; the elderly; those chronically ill with HIV/AIDS, heart, or lung disease; and health care workers. Globally, flu epidemics cause 3 million to 5 million cases of severe illness each year and between 250,000 and 500,000 deaths. Rouphael: "It has become clear that there is an urgent need for a universal influenza vaccine—a vaccine that can provide long-lasting protection and can work against all types of flu strains, either pandemic or seasonal. The last influenza season definitely highlighted this need." The first such universal flu vaccine is in clinical trials in the United Kingdom.
Microneedle Vaccine

Another promising development is the recent success of the influenza microneedle vaccine in clinical trials at the Hope Clinic and Georgia Tech, with Mark Prausnitz, Georgia Tech professor of chemical and biomolecular engineering. As its name suggests, the new technology involves incredibly small needles delivering an influenza vaccine into the skin, and it is relatively pain free. Participants in the trial strongly preferred the patch with dissolvable microneedles over a flu shot. Rouphael: "The microneedle patch was well accepted by the participants in the trial. In addition, it was found to be safe and well tolerated and to induce an immune response that is at least as good as the standard flu shot."
Advantages include the elimination of sharps disposal, the vaccine's stability and portability in rural areas and developing countries, and its potential for rapid use in response to a pandemic. Someday, vaccine patches could even be mailed to households for self-application. Rouphael: "The fact that the vaccine is delivered into the skin may offer other advantages in terms of immune response, as is evident from recent immunologic work led by Lilin Lai from the Hope Clinic lab and other labs at Emory."
Pandemic Preparedness

Avian influenza virus (H7N9) remains a top concern. Rouphael: "Indeed, the U.S. Department of Health and Human Services recently determined that the H7N9 bird flu virus has a significant potential to cause a pandemic and the greatest risk of causing severe disease." During China's fifth epidemic, from fall 2016 through fall 2017, there were 766 human infections reported, making it the largest H7N9 epidemic to date. There have been 1,565 total cases of human infections since 2013. Rouphael: "At the Hope Clinic and in collaboration with Evan Anderson at the Emory Vaccine Center we are conducting clinical trials through Vaccine and Treatment Evaluation Units to test the safety and efficacy of different doses of antigens, with and without a boost called adjuvant, to allow stockpiling."
Superbug Prevention

Vaccines aimed at antimicrobial-resistant pathogens are becoming an increasingly important area, with at least 2 million people infected annually with resistant bacteria and about 23,000 deaths. Rouphael: "One approach to dealing with the increasing problem of superbugs that are resistant to all of our antibiotics and are common in our hospital settings (such as Clostridium difficile) is to try to prevent those infections though vaccination or use of monoclonal antibodies. We also test biomarkers to reduce antibiotic overuse."
Challenge Model
One way to speed development of a needed vaccine is to have a human challenge model, when it's ethical and possible. Rouphael: "This was the case for norovirus, and the Hope Clinic was fortunate to work with Christine Moe's lab and to challenge subjects successfully at Emory University Hospital. An infulenza challenge model will be important to conduct at Emory to facilitate the quest for a universal vaccine." In a typical human challenge study, volunteers who have received either a vaccine or a placebo are intentionally infected with the virus stock in a controlled setting in the hospital. The ability of the vaccine to protect participants against illness is studied. The findings help scientists and doctors learn more about how to effectively prevent the disease.
HIV Vaccine
HIV prevention studies are very active at the moment, particularly at the Hope Clinic, the Emory-Grady Ponce Center, and at associated research clinics overseas in Kenya and Thailand. Rouphael: "Jeff Lennox, Carlos del Rio, Colleen Kelley, and Sri Edupuganti have been working in the AIDS clinical trials unit to develop HIV prevention strategies (such as the use of long-acting integrase inhibitor given as an injection), vaccines, and monoclonal antibodies. The encouraging results from the THAI trial have given hope to the field, and many trials are designed to build on the success of RV144."
Emergent Diseases

New infectious disease threats are constantly emerging. Rouphael: "Forty years ago, no one had heard of HIV; it hadn't been identified. And a few years ago, very few people had heard of Zika—even though it was first described 70 years ago." Vaccine development takes significant time and resources and often comes too late when an epidemic strikes rapidly. Rouphael: "The Hope Clinic took part in testing vaccines against the 2009 influenza pandemic and the 2014-2015 Ebola epidemic. By the time the vaccines became available, however, much of the damage had been done, and the pandemic and epidemic had perhaps largely run their courses. New rapid platforms for outbreak vaccines are being developed to improve this timeline problem."
Community Support

The Hope Clinic, like other research facilities, relies largely on government funding to support clinical research and vaccine trials. Rouphael: "Yes, we receive funding mostly from the NIH" and also the CDC, Georgia Research Alliance, and industry investors, among many others. I am most proud, though, of the support of Emory, our dedicated staff, the incredible community we live in, and the amazing volunteers that make having safer and more effective vaccines a possibility." —Kellie Vinal