News and views from Emory School of Medicine alumni
Bringing Cancer Research Closer to Home
Ken Dixon 75M 80MR is an unabashed autograph hound. But instead of collecting signatures from celebrities in sports, music, or film, he hangs with a different crowd.
"I'm a cancer research groupie from way back," says Dixon, owner of Surgical Oncology of Northeast Georgia and founder of SpeciCare, a tumor bank in Gainesville, Ga.
"I used to get autographs from scientists I met at meetings for my children."
Dixon's infatuation emerged during his first year of residency at Emory in 1976. That year, noted scientists Harold Varmus and J. Michael Bishop discovered that normal chicken cells contain a gene related to the avian sarcoma virus. Their discovery led to a new era in medical science: the identification of retroviral oncogenes that can cause cancer in humans. It also heightened the buzz surrounding the Asilomar (California) Conference on Recombinant DNA, led by biochemist Paul Berg, in 1975. Berg's seminal gathering set the standards for genetic engineering and heightened public awareness about biotechnology safety. "I became aware of the remarkable things going on in the scientific world as I was learning to take care of cancer patients," says Dixon. "The explosion of modern science has taken place during my career. It's been remarkable to be on the clinical side of it."
"My dad was a very good man," Dixon says. "He trained at Emory and the VA hospital (then in Chamblee, Georgia) and moved to Gainesville when I was five."

---
Dixon has spent most of his life in Gainesville, Ga., where his late father, Pierce Kendal "P.K." Dixon Jr. 42Ox 44C 46M, practiced surgery and founded Lanier Park Hospital. P.K. was the 13th doctor to practice in rural Hall County (where Gainesville is the county seat) and he did emergency surgeries throughout North Georgia. Once, during a family outing, the Dixons came upon an automobile accident that injured several people. P.K. did surgery at the small hospital where the accident victims were taken while his family waited outside in the car. "My dad was a very good man," Dixon says. "He trained at Emory and the VA hospital (then in Chamblee, Georgia) and moved to Gainesville when I was five. We practiced together for the last 15 years of his career and the first 15 years of mine."
Like his father, the younger Dixon has formed strong bonds with his patients. Nowadays, after 35-plus years of practice, telling them "there is nothing left to do" when standard therapies fail has become increasingly difficult. The slow pace of translating science into patient care frustrates Dixon, given that 85 percent of cancer patients are treated in community settings far away from academic medical centers.
"There's an unnecessary chasm between basic research and what's happening here in Gainesville," Dixon says. "There are plenty of clinical trials available to people here and in smaller towns like Athens, Cumming, or Albany. But most aren't going to leave their community to seek the latest treatment away from home."
Dixon recently founded a company to address this problem—SpeciCare, which collects and stores live tumor tissue and makes it available for testing and research as directed by the patient and their physician. The goal: to link patients more quickly to clinical trials and new therapies in Georgia and around the country.
SpeciCare falls within the realm of functional precision medicine, which uses living tumor tissue to create individualized therapies for patients.
Banking tissue from live tumors at the time of surgery or biopsy will enable Dixon's patients to gain access to the latest cancer research without leaving their community.
The $1,900 cost per patient is not covered by insurance, but Dixon has managed to keep the cost down to make SpeciCare more affordable for patients.
"It's a way to empower patients with options, especially for whom surgery and chemotherapy have failed," he says. "It puts them in charge of their cancer journey. This is where cancer care should be five years from now." —Pam Auchmutey
5 Things to Know About Ken Dixon
1. He practices general and oncology surgery in Gainesville, Georgia, where he has lived since age five.
2. Area of expertise: Treating patients with advanced-stage liver cancer.
3. His late father, P.K. Dixon, was an Emory-trained surgeon. P.K. served patients across north Georgia at a time when there were few hospitals serving rural communities. Father and son practiced together for 15 years.
4. He recently founded SpeciCare, a tumor tissue storage and banking process for cancer patients, to bring scientific advances more quickly to patients in smaller communities like Gainesville.
5. He's an admirer of the late Herbert A. Simon, an American economist and political scientist who studied decision-making in organizations.
------------------------------------------------------------------------------------------------------------------------------------------------------------
Where in the world are you?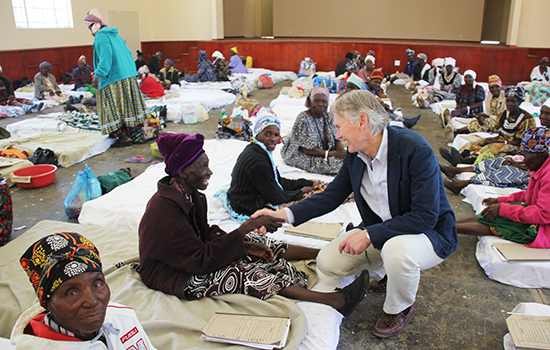 A Quiet Miracle in Africa
Michael Colvard 69C 73M has volunteered as an eye surgeon in sub-Saharan Africa for more than 30 years. From all those years, a single experience stands out from all others.
His daughter, Megan, was working with the Red Cross in northern Namibia some years ago, during the height of the AIDS epidemic. Colvard was volunteering with SEE International, a nonprofit dedicated to eliminating reversible blindness, in the same region. Megan's team was going from village to village to make sure every orphaned child was under the care of an adult. She came upon a tiny, isolated hut surrounded by dirt and a few goats. Megan called out to ask if anyone was home. From the hut, she heard a soft reply: "There is no one here, only a blind person." When Megan entered, she discovered an elderly blind woman living alone with two small children. "The woman, who was the children's great grandmother, was their only living relative and she was desperately trying to care for them," says Colvard. Megan put the woman and children in her Jeep and headed to her father's eye camp. "We were breaking down and planned to leave the area the next morning," he says. "When Megan rushed in, we checked the woman, determined that cataracts were the source of her blindness, and took her straight to surgery. The next day, when we made rounds, she was smiling from ear to ear."
The woman recognized Megan's voice, placed her hands on her face, looked in her eyes, and said, "My daughter, God's grace helped you to find me. God's love has let me see again. Thank you for helping me."
"That," says Colvard, "is a moment I will never forget."
Colvard, clinical professor of ophthalmology at the University of Southern California School of Medicine, is active in research and has published widely. He holds several patents for medical devices, has developed surgical instruments used all over the world, and has received many awards, including the Senior Achievement Award from the American Academy of Ophthalmology. But his greatest sense of accomplishment, Colvard says, comes from his work with SEE International. In Africa, blindness often is accepted as an inevitable part of aging and there is skepticism that anything can be done about it. "When I began working with SEE, one of the older surgeons told me the work would be life-changing. It has been, and not just for my patients but also for me," he says. "To look into the eyes of someone who has been blind for years and now suddenly can see again is like witnessing a quiet miracle. We eye surgeons, through our training, have been given a gift so precious that we must share it with those most in need—the gift of restoring sight."—Martha McKenzie
---------------------------------------------------------------------------------------------------------------------------------------------------------------
Confessional Catharsis
"Leave your ego at the door when performing critical procedures on patients. Some doctors feel the need to parade their abilities… It's always better to avoid drama or condescending behavior in the O.R."
—William Cottrell 75M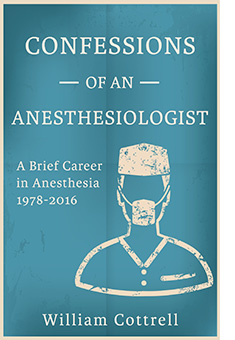 What is our fate in the cosmos? And once we know that, how well do we manage our fate? William Cottrell 75M ponders such existential questions in his memoir, Confessions of an Anesthesiologist, as he takes stock of his 39-year career practicing his craft in and around Concord, North Carolina.
The book is part-autobiography and part- tell-all about what can go right and wrong in the operating room. "There are several motivators behind this documentation of my career…as it approaches its conclusion," writes Cottrell, who entered the University of Tennessee in 1967 to pursue a bachelor's in chemistry. Among them: "Catharsis; that is, a self-administered psychotherapy reviewing a career full of stressful cases, ego confrontations, financial and political turmoil in the medical community, plus personal challenges."
After graduating from Emory's School of Medicine, Cottrell completed his residency in anesthesia at the University of Florida teaching hospital and the VA Medical Center in Gainesville.
"As the decades progress, Cottrell gives in-depth descriptions of his most challenging cases and patients. In one memorable account of a case during his residency, for example, he describes how a patient's unexpectedly reduced kidney function caused a troubling reaction to anesthesia; while the author says the case made him embarrassed and defensive, he also admits that it was a valuable learning experience," reads Kirkus Review, which calls the memoir "an immersive look at one man's multi-decade journey as a doctor."
Personal and business developments, challenges, opportunities, and relationships are co-mingled in the chapters. "The only way I knew how to do this was to say what it felt like as an outsider coming into medicine," Cottrell says. "I had a different way of looking at things."
Throughout Confessions, Cottrell makes it clear that he believes the practice of anesthesiology has, and continues to be, underrated by physicians and others in the medical profession and, perhaps, by patients themselves. "Anesthesiology is kind of an underdog specialty," Cottrell says. "It's seen as an accessory, a necessary evil."
Instead, it is a finely tuned skill, he says. "What we do is not straightforward. We can give too much or too little medication, with very little margin of error. We have to be prepared for, among other things, different reactions to different drugs. I want doctors to realize that we're full physicians and not just there for technical services."
Cottrell would also like to combat misperceptions among medical students so that more will pursue it. "At one point an orthopedic resident confessed to me that, while he realized anesthesiology played an important role in the outcome of surgery, he didn't understand why anybody would actually choose it as a specialty," he writes. "Should I explain that the basic skills of airway management and circulatory support…are universally essential to the survival of critically ill patients?"—Lawrence Quinn