'Families Like Ours'
Daughter's rare genetic condition inspires mom to start a foundation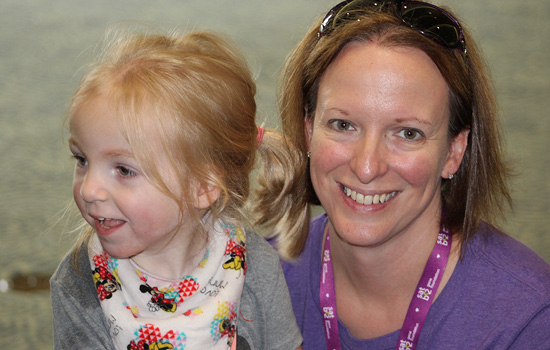 At eight days old, Katelyn Kaczenski was diagnosed with a genetic disorder so rare there were only 20 known cases in the world at that time. "Amniocentesis didn't show any genetic problems. We knew she had a kidney problem going into birth—that showed up on the ultrasound—so her going to the NICU wasn't a surprise. But the rest of it was," says Katelyn's mom, Allison.
Prenatal tests only detect chromosome deletions of a certain size, and Katelyn's deletion was smaller than what was detectable by the test used at the time. Because she was born with a cleft palate, however, that triggered further testing, which showed she had a small deletion of one affected gene: SATB2.
Previously referred to as Glass syndrome, this disorder is now called SATB2-associated syndrome, and results in speech problems, intellectual disabilities, gross and fine motor difficulties, and abnormalities of the palate, teeth, bone, and brain. Katelyn had surgery for ear tubes when she was three months old. Her soft cleft palate, at the back of the roof of the mouth, was repaired when she was 9 months old, and she had kidney surgery when she was a year old. She also had a feeding tube to ensure she received proper nutrition.
Allison and her husband, Matt, felt adrift, unsure of what to do to help Katelyn and what her future might hold. "For the first year or so, we were in survival mode," says Matt. "I'm an engineer, and I felt like I should be able to find solutions and fix this. But you learn to take it one day at a time."They came to see Emory geneticist Michael Gambello, section chief of the division of medical genetics and associate professor of human genetics and pediatrics. "Katelyn was 2 months old when I met her and her family in August 2014. There was little in the medical literature to guide us," he says. "At that time, I could only tell them that she would have some degree of intellectual disability."
Emory Genetics connected the Kaczenskis with clinical geneticist Yuri Zarate at Arkansas Children's Hospital, who was researching Katelyn's specific condition and creating a registry for SATB2-associated syndrome. "Such registries are extremely important for patients and their families affected by rare diseases," Gambello says.
After speaking with Zarate, her parents enrolled Katelyn in the registry. "As the condition was so rare, the registry has resulted in research that defines the clinical aspects of the condition, including characteristics not previously known," Allison says.
Currently there are about 225 families worldwide with children who have been diagnosed with SATB2-associated syndrome. A closed Facebook page for the syndrome was created, and parents began finding and reaching out to each other. "The Facebook group is really comforting. You can finally talk with people who understand," Allison says.
Allison, assistant director of programs in Emory's Advancement and Alumni Engagement division, used her background in nonprofits and fund raising to start the SATB2 Gene Foundation, with the goal of helping families, spreading awareness, and stimulating research. The foundation has created an information sheet about the syndrome, with the hope that doctors will recognize when to test for it. "We were lucky, because Katelyn was diagnosed so early. Some families don't find out until their children start showing symptoms or even later, after several misdiagnoses," she says. "We want to shorten the diagnostic journey."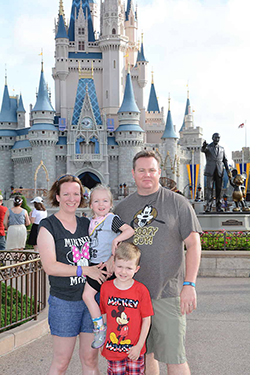 The second SATB2-associated syndrome family conference was held this summer in Little Rock, Arkansas, and 45 families attended, five of them international. "It's great to be around other families like ours, who understand. At the conferences, Katelyn is a typical child among all the other children—we don't have to apologize or explain why our child does something," says Allison. "And it is so awesome to see the connections our SATB2 children make with each other."
One advantage to the increased interest and research into SATB2 is that progress has been made on identifying interventions. There is now a suggested plan of care. "It is recommended to receive frequent, intensive speech therapy in addition to physical therapy and occupational therapy. Other recommendations for bone density testing and dental evaluations can be found on the information sheet," Allison says.
Katelyn, now 4, has therapy six times a week at a clinic near the family's Lilburn home. She's also going to a pre-K program at a nearby public school. "It's been really good for her, the socialization. She's not using her walker anymore," says Allison. Katelyn is learning to communicate with picture cards and a touch pad and tries to keep up with her big brother, Caden, around the house. The family recently visited Disney World. "She did great," says Allison. "She loved the teacup ride." 
To find out more about SATB2-associated syndrome and the SATB2 Gene Foundation, go to satb2gene.org.