Genetic Detective Work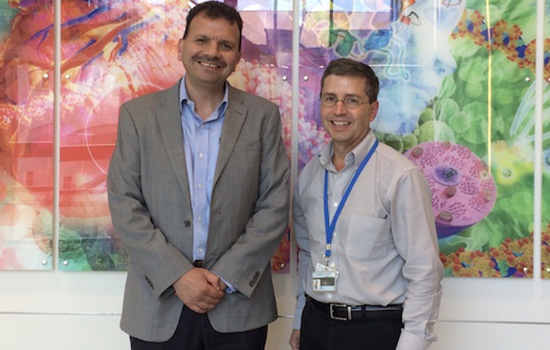 Two brothers from the Palestinian territories shared a strange malady. The rare disorder was characterized by significant diarrhea beginning soon after birth, low levels of fat-soluble vitamins, and evidence of liver disease.
A multinational team from Atlanta, Jerusalem, and the Palestinian territories identified what the brothers had: a previously undiscovered genetic mutation involving the transportation of bile. Researchers from Emory and Children's Healthcare of Atlanta, Makassed Hospital at Al-Quds University, and Hadassah Medical Center at Hebrew University of Jerusalem, collaborated on the cases.
"Since they are the first cases of this new genetic disease ever described, we don't know how the disease will present as they get older," says Emory pediatric GI and hepatology researcher Paul Dawson. "We'll continue to closely follow them." Mutaz Sultan, a pediatric hepatologist at Makassed Hospital, treated the children and ruled out other causes, such as cystic fibrosis. Sultan and Bassam Abu-Libdeh, medical director at Makassed, worked with Orly Elpeleg, head of the Department of Genetics and Metabolic Diseases at Hadassah Medical Center, to perform whole exome sequencing.
---
"The boys are doing well thanks to the efforts of their physician and parents to watch their diet and give them high doses of vitamins. I am hopeful for their future."—Paul Dawson  
---
Genetic testing showed that both children had inherited a mutation in a gene responsible for the transport of bile acids, which facilitates the digestion and absorption of dietary fats and fat-soluble vitamins.
Dawson and Saul Karpen, Raymond Schinazi Distinguished Professor of Pediatrics, run an Emory lab that investigates the role of bile acids in liver and GI disease. Dawson and pediatric researcher Anuradha Rao tested the effects of the mutation in cells. The discovery will help with the genetic identification of the disorder in other patients, and will help guide the boys' treatment. Medications can help, along with fat-soluble vitamin supplements and dietary changes. "The key to discovering this new cause of childhood disease was the outstanding international team of physicians and scientists," Dawson says. 
Related Story
"New digestive/liver disease gene identified by international team" (Sept. 27, 2017)
Related Link