News and Views

TOTALITY 2017: Medical students view the August solar eclipse on the front lawn of the Emory School of Medicine—safely, of course. (More pictures of eclipse at Emory.)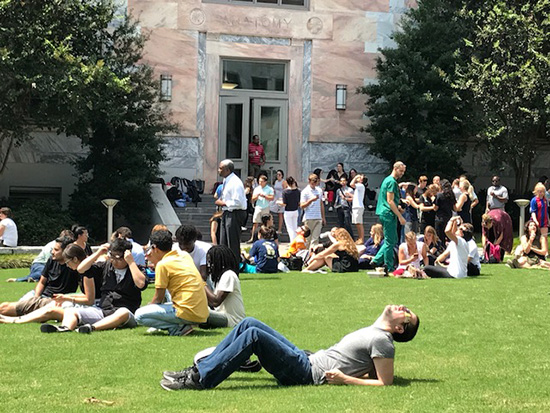 ---
Walking Upstream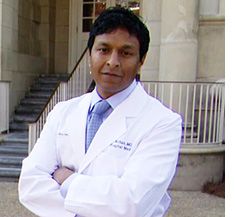 Arun Mohan 06MBA 07M
Arun Mohan 06MBA 07M never leaves home without his waders. They're not the typical rubber boots worn for fishing. Rather, they are the medical and business skills Mohan uses for wading upstream to find the source of health care problems. It's an approach he came to value while growing up in Monroe, Georgia, where his father is a community gastroenterologist.
"I never thought about anything other than being a physician since I was a little kid," says Mohan, 39. "Every day, I watched my father help sick patients get better. He was doing what we as doctors do, the equivalent of pulling people out of the water downstream. I began to wonder how those people got there in the first place. I saw medicine as an opportunity to affect change on a large scale."
Mohan has risen to that self-imposed challenge. During his undergraduate years at Swarthmore College, he translated for Mexican farmworkers, started a summer camp for Mexican children, and raised thousands of dollars for earthquake victims in his parents' native India. At Emory, he studied business and medicine, driven by the conviction that health care professionals need to understand the business climate. He excelled at Goizueta Business School—the year he graduated, Georgia Trend magazine named him a "Top 40 Under 40" leader. During medical school, Mohan co-founded several philanthropic and advocacy organizations, most notably Health Students Taking Action Together (Health-STAT), a statewide coalition of 1,000-plus students who strive to improve health care access and services for Georgians. Health-STAT is going strong today, led by health professions students from Emory, Morehouse, and Mercer, Life University, and others. The organization took shape after Mohan and other students from Emory and Morehouse attended a health insurance conference in Atlanta. All came away struck by the large number of patients with no health insurance. Every couple of months, when the students gathered over a home-cooked meal, they talked about how to organize and lobby for increased health insurance coverage in Georgia. "We went from learning and thinking about it to doing something about it," says Mohan.
Advocacy is a regular topic during Mohan's classroom lectures at Emory, where he teaches hospital medicine on an adjunct basis. "When I ask students if they've learned about problems in health care as part of their education, all of the students raise their hands," he says. "When I ask them if they've had a chance to solve those problems, almost no one raises their hand. There's a huge gap between knowledge and action."
Mohan has sought to close that gap as an entrepreneur. He credits Jason Stein 98M, a former hospitalist and quality expert with Emory Healthcare, with helping refine his business acumen. Stein "was a role model in how to leverage systems to improve quality of care," says Mohan. Shortly before graduating from medical school, Mohan co-founded the company Picture Rx, which develops tools to simplify health information for uses such as reducing medical errors and improving medication adherence. He remains an advisor to Bioscape Digital, which acquired Picture Rx in 2014.
Mohan subsequently came to work at Emory, serving as medical director of care coordination for Emory Healthcare and associate chair for IT in the Department of Medicine. At EHC, he promoted safe and timely transitions of care, provided guidance on regulatory and payer matters, and negotiated post-acute care partnerships. In the DOM, he oversaw structural changes to enhance problem-solving, patient satisfaction, and analytics capacity.
More recently, Mohan has worked in the private sector, including with Apollo MD, where he built and led one of the largest hospitalist groups in the country. Today he is CEO of Radix Health, which develops technologies to optimize patient access. The company's flagship product, DASH, balances supply and demand for large provider groups through advanced analytics and automated scheduling. Last August, Mohan was named a medical advisor to CareDash.com, a health care review site. "CareDash is not a pay-to-play model, where providers pay to have negative reviews removed," Mohan says. "The information on the site is transparent and is designed to serve lower-income patients."
Outside of the business realm, Mohan practices as a hospitalist at WellStar Spalding General Hospital in Griffin, Georgia.
How would he advise physicians as they juggle the patient and business demands of health care? "It isn't easy," he says. "The challenge for doctors is separating out the administrative and regulatory burden so you get to focus on your patients. That's what systems like Emory are trying to do—promoting team-based care that allows doctors to practice at the top of their license. The immediate answer is to do what you love, and everything else will follow."—Pam Auchmutey
---
Fixing Sleep: Not easy, but worth it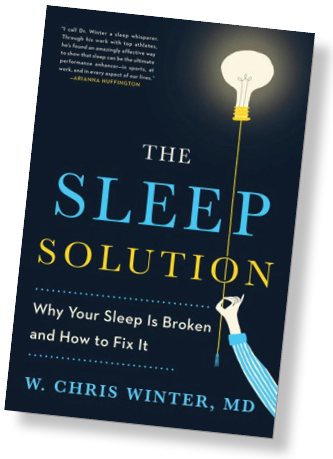 OK, I'll admit it: When I was asked to review The Sleep Solution: Why Your Sleep is Broken and How to Fix It, by W. Chris Winter 99M, I rolled my eyes, thinking: Yet another bromide that theoretically will end my sleepless nights—but ultimately will be just another quick fix that won't work. I plunged in anyway and I'm thrilled I did. Thanks to this readable, often humorous, anecdote-filled tome, which relies on cutting-edge science as well as time-tested techniques, I'm learning that I can catch a full night of Zzzs without pills or other quick fixes. At least it's possible—if not exactly easy.
"Unlike many neurological disorders, sleep conditions are treatable," Winter says. "You can fix them.
"Think of The Sleep Solution as a process for understanding and overhauling both your sleep and the way you think about sleep. Among Winter's key points:
• 
The media is doing a tremendous disservice as it offers one- or two-minute solutions. "Is your bedroom dark, cool, comfortable? We've all gotten that message over the last five to 10 years. … We're left with a checklist and when that checklist doesn't work, people feel helpless."
• 
Medical schools exacerbate the problem because they spend only an hour or two discussing sleep disorders. "We end up treating people with fear. My class got one lecture on sleep in four years—we spent several years on gall bladders, by comparison. So we don't know what to say or how to say it."
• 
Ambien and other "sleep medicines" or over-the-counter remedies often only mask or exacerbate the problem. "The top five solutions that are probably not going to work are: pills; a device that straps on to your wrist; a brand-new mattress; going to bed early to get more sleep; and special foods, supplements, or drinks," Winter says.
W. Chris Winter 99M
Dubbed the "Sleep Whisperer" by Arianna Huffington, Winter is president of Charlottesville Neurology and Sleep Medicine, and has helped thousands of individuals—including stressed-out parents, athletes, students, members of the military, and business leaders—to improve their sleep. Insomnia is not a condition, he says, it's a symptom that can indicate anything from sleep apnea or restless leg syndrome to anxiety or depression.
"It's interesting to look at reviews of my book," Winter says. "Overall, they've been remarkably favorable, but occasionally one contains a phrase like, 'It really didn't offer any tips for sleeping better.' This captures what is wrong with how we approach our sleep. We want 'quick tips' or 'one weird trick' for fixing our sleep. We're almost afraid of digging too deeply when it comes to why we are struggling. In the end, I want people to know they can take control of their own lives and treatment."—Lawrence Quinn