Supporting Physicians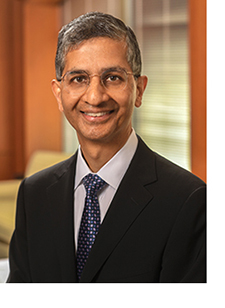 As the new dean of Emory School of Medicine, I am struck by the commitment and passion of our faculty, staff, and students in keeping and making people healthy.
I am also impressed by the vigorous support of our tripartite mission of patient care, discovery, and education from alumni, board members, and Emory well-wishers.  
In an academic health center, the focus is primarily on serving 
others—providing the highest level of patient care, developing life-saving treatments and technologies, and teaching and mentoring future doctors.
In this as in every issue of Emory Medicine magazine, we showcase ways our teams are helping to make others' lives better: You will hear from patients with mysterious heart maladies whose doctors diagnosed and treated them with a blend of clinical skills and creativity (p. 16), sit in on the latest Dinner with a Doctor, which focuses on migraine solutions (p. 32), and discover what researchers are learning about the human immune system by studying ancient, jawless parasites (p. 36).  
But what about the level of service and care we provide to our physicians and other medical team members themselves? In "Healing the Healers," we address head-on an epidemic that medical schools and academic health centers have ignored for far too long: high rates of physician stress, distress, and burnout.
There isn't an easy fix. It will take commitment on the part of the entire medical community to change the organizational culture, implement systemic solutions, and provide appropriate resources.
Only when our healers feel strong and supported can we say 
we've truly fulfilled our mission of spreading wellness. Indeed, it adds another dimension to that mission: to restore the joy of working in medicine.
Vikas P. Sukhatme, MD, ScD
Dean, Emory School of Medicine
Chief Academic Officer, Emory Healthcare