Endorphins
David Stephens, Interim Dean, Emory School of Medicine
---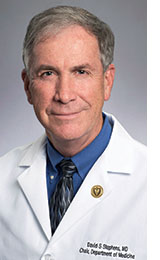 I enjoy running, both on the roads and trails around my home and on unfamiliar paths while traveling.
It's a great way to experience new places and to connect with the outdoors. I ran track and cross-country in high school and was a hurdler during college, and I've run in the Peachtree as well as Atlanta and Chicago marathons.
Studies indicate that moderate amounts of running can significantly extend your life expectancy, but that has not been my motivation.
Quite simply: Running never fails to energize me.
We now know a lot more about the benefits of sports and staying active. At Emory, our faculty doctors care for athletes of all levels, from hobbyists like myself to the pros. Our sports medicine physicians, cardiologists, and others partner with Atlanta's sports teams to provide high-level care, and we recently started construction on a sports medicine center and training facility with the Atlanta Hawks.
"Emory is not just somewhere to go for cancer or heart disease—we also have a world-class musculoskeletal center and sports medicine program," says Scott Boden, director of Emory's Orthopaedics and Spine Center and professor of orthopaedic surgery. "Caring for the most elite and professional athletes in Georgia allows our sports medicine physicians to treat everyone with the highest level of care and expertise, whether a professional athlete, an Olympian, a collegiate or high school star, or a weekend warrior."
Several of our School of Medicine researchers have also pioneered ways to keep athletes safer, from portable devices that instantly diagnose concussions to methods of reducing cardiovascular risk.
We encourage wellness in our own community through events like fitness challenges in the workplace and the annual Winship 5K that raises funds for cancer research.
As I watched my grandson last week on the pitcher's mound, I was reminded of the benefits that sports confer on us, body and mind—but also of the need for new and better programs to keep athletes safe.  Here's to being active and healthy and getting those endorphins going.