Gifts of note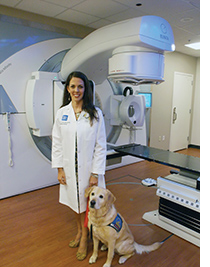 Woodruff Fellowship funding helped Michelle Ludwig 05M 05MPH pay for her Emory education. Now a radiation oncologist working with underserved patients at Baylor College of Medicine in Houston, Ludwig has arranged to help other students through a bequest of more than $150,000 that will provide scholarship support. The amount equals Woodruff funding given to her as a student at the School of Medicine and Rollins School of Public Health."I tell my patients that they need to have a will and medical directive, and I made a New Year's resolution to do that and pay back my scholarships," she says."The Woodruff Fellowship allowed me to come to Emory, where I learned to be a creative problem solver and compassionate physician and become comfortable in treating underserved populations. Robert Woodruff wasn't even in medicine, but this is his legacy."

As a patient, Loraine Williams of Atlanta was so impressed with the dedication, skill, and compassion of physicians Vasilis Babaliaros, Stephen Clements, and Ira Horowitz that she made a significant gift and bequest in their honor. Along with existing funds given in honor of her late husband, a long-time Emory trustee, Williams' gift will establish the Thomas R. Williams Professorship in Medicine.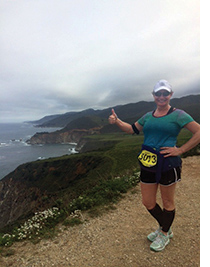 Doris Reilly of Marietta celebrated her successful cancer treatment at Winship Cancer Institute by running the 2014 Big Sur International Marathon, raising more than $10,000 to support the research of her surgeon, Viraj Master. An associate professor of urology, Master focuses on kidney cancer and has studied the effect of inflammation, the shape of bones around the prostate gland, patient literacy, and how low-fat diet and exercise influence a patient's recovery. Reilly's gift included matching funds from her company, FHM Insurance.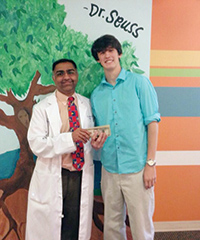 After sharp joint pains made Alex Johnson skip cross-country running practices at Etowah High School, he was diagnosed with juvenile rheumatoid arthritis. Sampath Prahalad, chief of the pediatric rheumatology division, helped get him back on his feet. To help fund Prahalad's research, Johnson organized a one-mile Run for RA that raised $1,200 from participants ages 5 to 65. "As of right now, there is no cure for my disease, but there's always hope," says Johnson, now a college freshman interested in biology. "It's cool that one doctor can make a difference in so many lives."

Through the 12th AIDS Vaccine 200 (AV200) Ride, Action Cycling Atlanta raised $163,100 to fund research on preventive and therapeutic HIV vaccines at the Emory Vaccine Center, the nation's largest and most comprehensive academic vaccine research center. This two-day, 200-mile bike ride has raised more than $1.8 million in total, and funding also benefits the AV200 Fellows, a group of graduate students and postdoctoral researchers representing the next generation of HIV researchers.

To learn how you can make a major gift to the health sciences at Emory, call 404.712.4483. To make a gift online, please visit emory.edu/give.