After the Ebola Outbreak: Lessons Learned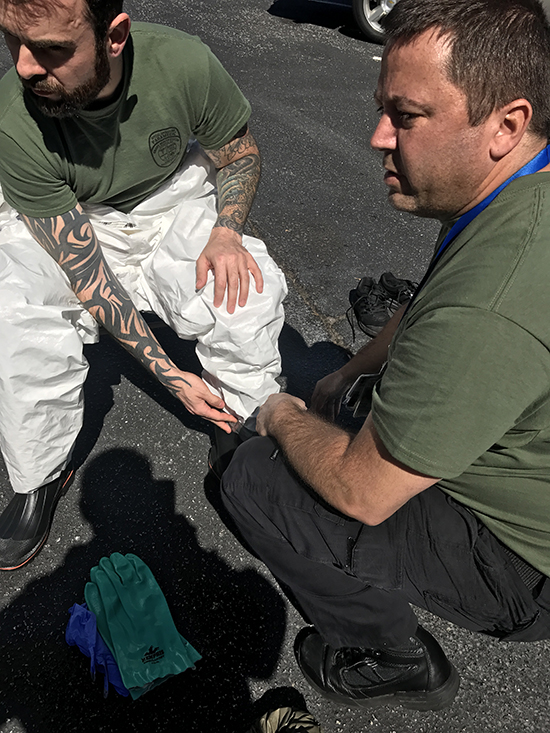 Photography by Jonathan Rosen
In the wake of caring for four patients with active Ebola virus in 2014, Emory clinicians have taken stock of lessons learned in infectious disease prevention, therapeutic care, and health aftereffects and are sharing that information broadly with other health care professionals and first responders.
Alexander Isakov, emergency medicine physician and director of the Emory Office of Critical Event Preparedness and Response, was in charge of the transport of the aid workers who were infected in West Africa and flown to Atlanta, where they were cared for in Emory's Serious Communicable Diseases Unit under the direction of Bruce Ribner.
| | |
| --- | --- |
| | |
| Caring for patients with diseases like Ebola requires special precautions from transport to the isolation unit. | |
Isakov and Ribner used their experiences to improve nationwide infectious disease preparedness. "Managing infected patients requires effective education and training so workers can do their jobs safely," says Isakov, who adds that the decision to accept and treat the Ebola patients at Emory was based on confidence in the staff's preparedness, including 12 years of training in managing highly infectious diseases.
Isakov leads the Emory Ebola Biosafety and Infectious Disease Response Program, which helps to spread this knowledge and provide education and training for workers who face risk of occupational exposure. The program is part of the National Institute of Environmental Health Sciences Worker Training Program, which provides infectious disease and response training for health care providers, laboratory technicians, janitors, garbage handlers, first responders, morticians, and others. 
The Emory program trains first responders to do the following:
• Properly put on and remove personal protective equipment (see next page)
• Prepare an ambulance to safely transport a patient while protecting surfaces from contamination
• Recognize risks and use strategies to safely manage infected patients
• Implement standards and precautions to prevent contact with infectious bodily fluids
Emory also offers a Clinical Biosafety Awareness Course for workers who might be at risk. "Although the Ebola outbreak was the primary impetus for our program, the training will have an impact on managing many other infectious diseases," Isakov says. "This will help our nation be better prepared for the next epidemic or pandemic."
Another effort involves the medical team that treated Ebola patients partnering with the Emory Center for Digital Scholarship to develop a virtual experience of treating critically ill patients in a place like the Serious Communicable Diseases Unit at Emory University Hospital. Ribner and colleagues plan to create a series of 360-degree videos that will simulate protocol steps such as donning and doffing personal protective equipment and being aware of points of contact to avoid cross-contamination.
A $12 million federal grant awarded in 2015 to Emory, University of Nebraska Medical Center, and NYC Health + Hospitals/Bellevue to establish the National Ebola Training and Education Center (NETEC) has been doubled to $24 million for additional site visits, more training courses, a special pathogens research network, and other services.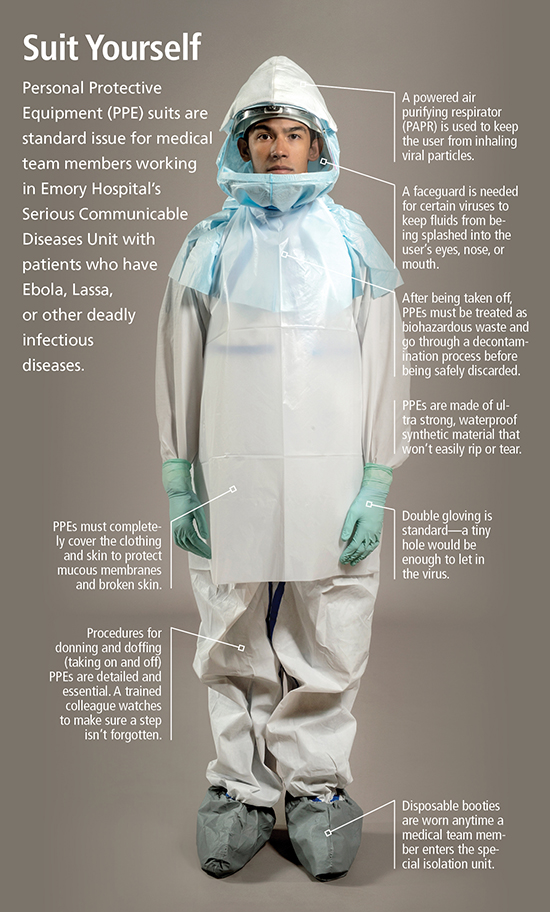 Photograph by Jack Kearse
Related Stories
"Regional Ebola treatment centers talk preparedness at NETEC Summit" (July 12, 2017)
"Ebola grant expanded from $12 million to $24 million" (Feb. 3, 2017)
"Emory team to train first responders in infectious disease protection" (June 2, 2016)
"Emory marks first anniversary of Ebola care" (July 28, 2015)
"Emory to lead National Ebola Training and Education Center" (July 2, 2015)
"Meet America's Top Ebola Doctor: Bruce Ribner" (TIME Magazine, 2014)