Where in the world are you?
Educating, Empowering, and Equipping in Kenya
By Martha McKenzie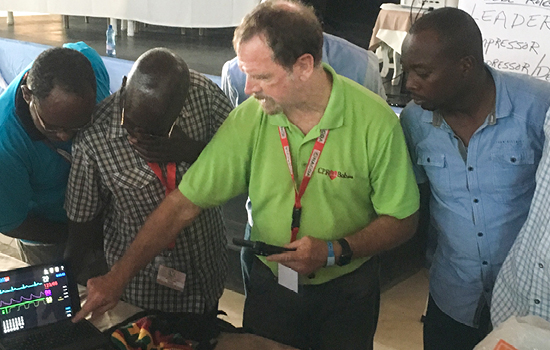 Bob Culver 96AA had been teaching basic and advanced CPR courses across the country when he was invited to Kenya to provide instruction.
During one of his first sessions, a participant raised his hand and asked, "What do you do if you don't have a defibrillator?"
The question stopped Culver in his tracks.
"I thought, 'What do you do?' " he said.
Culver, who works as an American Heart Association instructor and a semi-retired anesthesiology PA for Wellstar Health System, did a bit of research. He discovered that many hospital operating rooms in Africa lacked that essential piece of equipment.
So Culver returned home to Atlanta and started CPRBobCares Foundation to, in the words of its mission statement, educate, empower, and equip.
To educate, the foundation provides financial support and Culver and his team teach American Heart Association courses in basic and advanced CPR.
To empower, the foundation developed instructor training programs. Currently Culver's team is training instructors in Africa for the Kenya Medical Training College, the country's professional association for anesthesiologist assistants, and SmileTrain.org, an international charity that provides assistance to children with cleft lip and palate. These instructors can then provide CPR training in medical facilities throughout Africa. Culver is also working with local partners to establish a CPR training center in Nairobi, Kenya's capital.
And to equip, the foundation aims to provide defibrillators and other supplies to medical facilities that need them. Last year, CPRBobCares sent six defibrillators, and one recipient reported the device had already been used four times. Culver hopes to double the number of defibrillators he sends this year.
"We believe you should do more than teach a man to fish," says Culver. "You need to offer him a fishing pole."
Are you an Emory Medicine alumnus doing interesting work in, say, rural Kentucky, New York City, Jakarta, or Taipei? Let us know where you are and what you're doing with a quick email (and photo!) to the editor: mary.loftus@emory.edu.