High Tech, High Touch
Will technology save us?
Certainly impressive biomedical leaps are taking place across the medical landscape.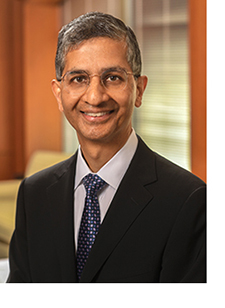 We can use 3-D printing to craft medical devices and body parts, we can predict the onset of some diseases with big data, we equip patients with bionic limbs that can detect neuromuscular signals, we can perform robotic heart surgery, we can implant stimulation devices in the brain to diminish depression and epileptic seizures.
But as John Naisbitt foretold with the concept of "high tech, high touch" in his 1982 bestseller Megatrends, in a world of digitalized, computer-augmented reality, people long for personal, human contact.
In this as in every issue of Emory Medicine magazine, we showcase ways our medical teams are making others' lives better, in research and in practice. You'll learn about promising immunotherapies for treating cancer (p. 12), why your allergies might get worse the longer you live somewhere (p. 18), and what six Emory doctors suggest for end-of-life medical directives (p. 30).
While our physicians do indeed use the latest therapies and techniques, these are not the only tools in their doctor's kit.
As Emory cardiologist Laurence Sperling says, in an article about advances in medical imaging (p. 22), effective clinical care requires "listening to, talking to, and touching the patient. We are taking care of people, not pictures of people."
To view the digital version of Emory Medicine, with bonus content, go to emorymedicinemagazine.emory.edu.