High-tech heart help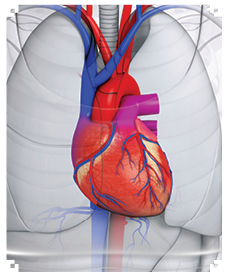 Two lifesaving devices have made it through clinical trials and are on their way into more patients' hearts.
The CardioMEMS HF System is the first FDA-approved heart failure monitoring device shown to reduce hospital admissions.
The device, invented at Georgia Tech using jet-engine technology, is delivered to the heart with a catheter and implanted in the pulmonary artery, where its paper-clip-sized sensor measures interior pressure. An increase in this pressure can indicate worsening heart failure.
Once implanted, the wireless sensor sends regular pressure readings to an external electronic system. "We're able to detect changes from a distance and, if needed, adjust a patient's medication regimen to stabilize pulmonary artery pressures," says Emory cardiologist Rob Cole. Cole and colleagues recently implanted metro Atlanta's first FDA-approved CardioMEMS device, although Emory Healthcare has been offering the device for years as part of a clinical trial. The sensor is designed to last a lifetime and does not require batteries.
Also, patients with non-valvular atrial fibrillation (AFib) now have an alternative to long-term warfarin medication with the Watchman Left Atrial Appendage Closure Implant.
During a minimally invasive procedure, the implant is delivered to the heart via a catheter, closing off the left atrial appendage (LAA). The LAA is a thin, sack-like appendage attached to the heart and is thought to be the source of the majority of stroke-causing blood clots in people with non-valvular AFib.
Cardiologist David DeLurgio, director of electrophysiology at Emory Saint Joseph's Hospital, and an Emory team have been implanting the device for the past seven years in clinical trials, testing the new technology. He recently implanted the region's first FDA-approved device in the Southeast.
Related Resources
"Emory offering breakthrough heart failure monitoring device" (5/19/2015)
"Emory first in Southeast to implant A-fib device that may eliminate need for blood thinners" (5/12/2015)