MyLife: Adults with autism practice life skills on campus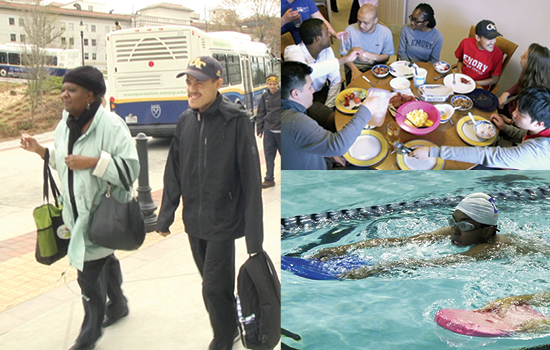 Working out at the gym, swimming, riding the shuttles, sharing a meal…all are part of myLife, an Emory Autism Center pilot program that uses the Emory campus as a behavioral training ground for adults with autism.
Participants are paired with peer volunteers, many of whom are Emory students.  
"They need guidance, patience, and repetition," says Catherine Rice, director of the center, "in terms of helping to practice life skills."
These skills, selected to foster independence, include interacting with others, communicating needs, participating in community events, exercising, and getting around on public transportation. There is even an apartment on campus where they can practice cooking healthy foods, cleaning, doing laundry, or just hanging out with friends. Activities like woodworking and gardening are included to introduce hobbies or potential job skills.
Doing activities together allows counselors and peer volunteers to give feedback. For example, if a participant sits right next to a stranger on the shuttle, even when there are several other seats available, they can be reminded about personal space and that this sometimes makes the other person feel uncomfortable.
"You want real life to happen," says Toni Thomas, program manager for adult services at the Emory Autism Center. "You don't get that in a clinic room."
Video
The Emory Autism Center is making use of the Emory University campus for an initiative to help adults with autism spectrum disorder learn and practice important life skills.
Related Resources
"Adults with autism learn independence on Emory campus" (4/20/2015)