News and views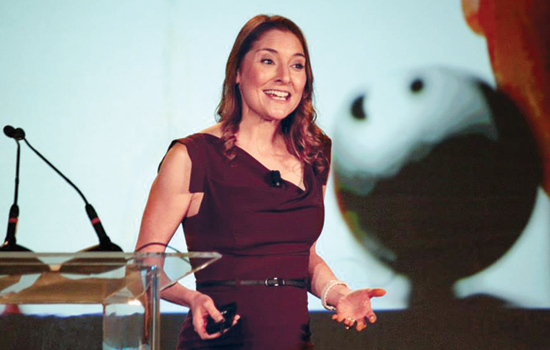 The Radio Doc
By Yael D Sherman
As a resident at Yale University in 2009, Darria Long Gillespie staffed the emergency room at the height of the swine flu hysteria.
Newscasters told viewers that they could be sick with the deadly virus and to seek treatment. Hundreds of people flooded the ER and waited for hours. Most discovered that they did not have swine flu—a frustrating experience for them and the medical staffs. The situation galvanized Long Gillespie. "I wanted to be a voice for people," she says. "I wanted to ease their fears when something is blown out of proportion, and to make them aware when something is dangerous."
She became a national spokesperson for the American College of Emergency Physicians and joined the public relations committee. While working in the ER department at Beth Israel Deaconess Medical Center in Boston in 2011, she started her own show, Ask Dr. Darria, on Brookline Access TV. A DIY production, the show gave her the opportunity to learn how to do her own lighting, book guests, and plan the script. Media exposure led to more media exposure, and Long Gillespie began to do guest spots on the Dr. Oz show and local news.
A native of Chattanooga, Long Gillespie wanted to continue her work in the ER and the media back home in the South, and moved to Atlanta a few years ago. Now an emergency physician at Emory University Hospital Midtown and assistant professor at the School of Medicine, Long Gillespie is a full-fledged media personality with a national presence and a show on Sharecare Radio (on iHeartRadio's RadioMD). Broadcast live every Tuesday at noon, her show offers clear, useful tips and news to help listeners get and stay healthy.
As an ER doctor, Long Gillespie is on the front lines of health care. "The emergency room is open to everybody," she says. "You have to be prepared for whatever comes through that door, whether it's someone with measles, a person having a stroke, or a woman having a baby."
Sharecare Radio launched in January 2015. Each week, thousands of listeners tune in to Long Gillespie's shows, including News of the Week with Dr. Darria, interviews with top medical and wellness professionals, and Ask Dr. Darria. "I try to speak directly to the listener, just as I would with a patient in the ER," she says."I want to empower them. Most people think that because their mother has diabetes, they'll get it. But you can change your lifestyle to change your health."  
During a recent show, Long Gillespie discussed the measles outbreak and highlighted the importance of vaccinations. While one or two people in 1,000 will die of the measles, she said, there is less than a one in 1 million chance of severe reaction to the measles vaccination. Other topics included: childhood earaches and hearing loss, how to get enough protein in a vegetarian diet, when to start exercising again after a sprain, and whether three-year-olds need naps. Listeners can send in questions via Twitter @SharecareNow #SharecareRadio and email at askdrdarria@radiomd.
"People are hungry for information on health," Long Gillespie says. "Your primary care physician is your No. 1 trusted source of information. But the reality of health care is that you see your primary care physician once or twice or a year for ten minutes, and you still have questions the rest of the time."  
Long Gillespie was named one of the "Top 10 Physicians You Should Follow on Twitter" by the Schumacher Group, and has made appearances on CNN, Fox News, and CNBC. "Working in the ER and the media go hand in hand," she says. "I wouldn't want to do one without the other."
---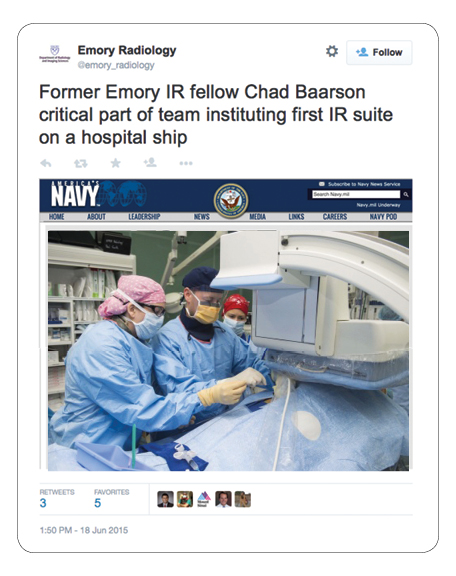 Where in the world are you?
Lt. Commander Chad Baarson 14F, an osteopathic surgeon assigned to the Naval Medical Center, Portsmouth, Va., performs interventional radiology surgery on a Guatemalan woman in April aboard Military Sealift Command hospital ship USNS Comfort.
The ship is taking part in the humanitarian-civil assistance mission Continuing Promise 2015. Continuing Promise is a U.S. Southern Command sponsored deployment to conduct expert exchanges, medical, dental, veterinary, and engineering support, and disaster response to partner nations and to show U.S. support and commitment to Central and South America and the Caribbean. 
Are you doing interesting work in, say, rural Kentucky, New York City, Jakarta, or Taipei?
Let us know where you are and what you're doing with a quick email (and photo!) to the editor: mary.loftus@emory.edu.