Why I became a kidney donor
The First Link
By Beth Galvin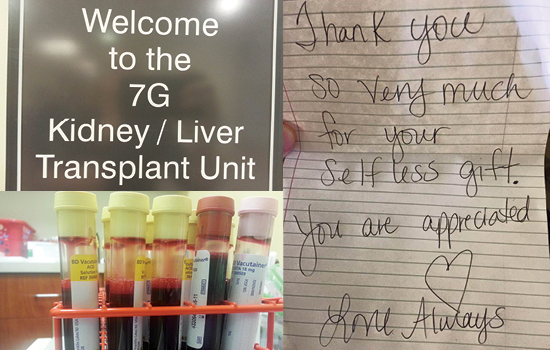 This summer I took a few weeks off from medical reporting at Atlanta FOX 5 to do something I've felt led to do.
On Tuesday, June 9, at Emory University Hospital, I became a kidney donor. I was inspired by a story I reported about Chamblee Assistant Police Chief Mike Beller, a father of five who donated his kidney at Emory in 2013. Mike says he never regretted his decision and that when he thinks about the donation, it still makes him happy.
I had been thinking about this for a while, during 15 years of reporting about health and meeting people waiting for organs who were trying so hard to find donors. I became very aware of the need.
I chose to become an "altruistic" kidney donor—meaning that my kidney would be given to a stranger and start a chain of donations—so that I could help not just one person, but several. These transplant chains, created by the National Kidney Registry, are pretty new and solve a major obstacle in transplantation. About 30 to 40 percent of kidney failure patients who have a willing kidney donor aren't biologically compatible.
The registry takes all those non-matching pairs and adds them to a database of waiting recipients and willing donors from all over the country. It uses an algorithm to find matches and build a chain. Each donor volunteers to give a kidney to a stranger so that someone they care about will receive one—the ultimate "pay it forward." For patients, this can cut the waiting time from years to months. In my case, as the beginning donor, I was found to be a strong match for a man in LA.
On the eve of the surgery, I was anxious. But at 4:30 a.m. on surgery day, total peace. No anxiety. I just felt ready. Someone even slipped a "thank you" note under my door.
The chain I like to think of as "mine" began in Atlanta, where my left kidney was removed laparoscopically in an hour-and-a-half-long operation. It flew on a noon Delta flight to LAX. That afternoon, my kidney was sewn into my recipient at UCLA Medical Center. His donor gave a kidney to another stranger, and so on. Back and forth it went, the giving and receiving. In all, there were 12 people in "my" chain. Six donors gave to six recipients. These chains rely on people keeping their promises. If someone backs out or changes his mind, the chain is broken.
Going into this, I listened to all the risks carefully. There were many: I could get an infection, I could bleed. The kidney could be damaged in transport. Something could happen during the recipient's surgery. I was offered the chance to back out over and over and was assured my recipient would never be told what happened. I considered all the risks and proceeded because I trusted my team, led by Dr. Nicole Turgeon.
I'm proud of my UCLA kidney, and I've got a lot of love and respect for my hardworking remaining kidney. I'm doing everything in my power to take care of it: losing a little weight, watching my blood pressure, and avoiding certain medications I used to take like candy. As for any remaining doubts?
The night of my surgery, Dr. Turgeon told me a little about my recipient: He is a father of two young children, a volunteer coach, and works full time. He'd spent two years on dialysis. Waiting. Then Dr. T read a text from him: He says you're giving him his life back. I cried. I've cried a lot on this journey, but this time, I cried because I knew I'd done the right thing.
To learn more about Beth's experience go to bit.ly/galvinkidney